ABE LINCOLN JR. STUDIO VISIT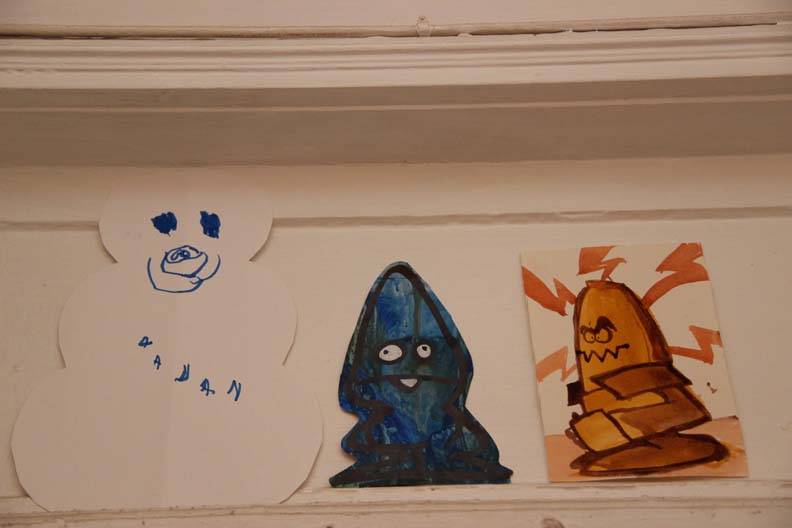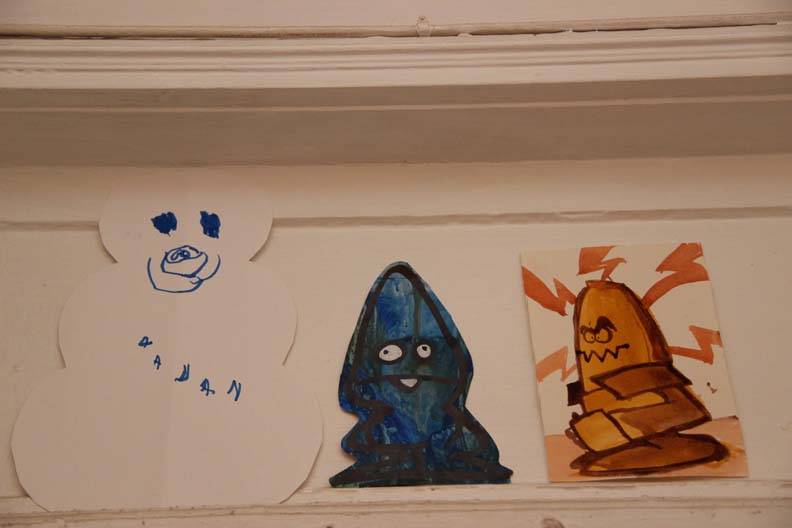 NATALIE KATES: Where does the name Abe Lincoln Jr. come from?
ABE LINCOLN JR: Well before I was doing fancy arts and crafts for international patrons, I knew all these old punk dudes from the Black Flag days who had gone soft and were all into being singers/songwriters with deep thoughts and acoustic guitars.
So at one point I said fuck this, I'm going to have to remind them what good music is all about. And having never played an instrument before, I decided to start a band called Gettysburg Express and I'd dress up like Abe Lincoln and sing hardcore songs about the Civil War from his POV.
A guitarist I was trying to recruit to be the lead guitarist, John Wilkes Boothe, had another engagement and couldn't play but he was an editor at Details and they were doing a write up on schtick bands. So he asked me if I wanted to be in the magazine.
I told him I hadn't written any songs yet or played a show but he said if I promised to actually do it he'd put me in, since it was a fucked up concept.
So I got photos taken of me in this get up with a fake beard and Log Cabin across my knuckles (remember this was 1996, it hadn't even begun to be played yet) and I wore a convict's jumpsuit with a big gun silkscreened on the back (thanks Maggie Estep and Liquid Sky) and sent them in.
I had written four or five songs such as "I am Abe Lincoln," "Mary Todd," "Emancipation Proclamation" and "Civil War" practiced twice and played a show.
We played a blazing 10 minute set of hardcore and the Coole was a smoking ruin afterwards. The last song was "Civil War" and at the end of the song lead guitarist John Wilkes Boothe pulled an old timey gun on me and "shot" me in the head. People laughed and cried.
He sang the encore "I killed Abe Lincoln." That was the first and last show Gettysburg Express ever played but it was instrumental in my progression as an artist and turned out to be some pretty amazing branding to boot.
The end.
<a href="http://soundcloud.com/abelincolnjr/sets/gettysburg-express-live-at-the" rel="nofollow">soundcloud.com/abelincolnjr/sets/gettysburg-express-live-...</a>
NK: One of your most iconic works is "bird taking a poop." What's the story behind it?
ALJ: My pooping bird is known as Char and he is a homage to a proto-food court called the Menu Tree, near my hometown. It had a "Space-Age Bachelor Pad meets Wrought Iron Aviary theme.". VERY 60's and was an amazing place for a little kid to go to. It was also a couple of years after 9/11 and I for one was always really tense getting on the train and commuting to work. I made the image relatively quickly in Adobe Illustrator (I had been wanting to do something with the Menu-Tree for a while), but he instinctively cracked me up and I thought it might cut the tension of living here a little bit (I used to flinch when a low flying plane passed overhead like a lot of other New Yorkers) and started printing up stickers and posting them up around Soho and China Town.
NK: Do you remember where and when you first threw this image up on the streets?
ALJ: 2003 was when I first put him up.
NK: Do you think graffiti should be legal?
ALJ: It doesn't really matter at this point. I think real deal graff and writers will always be outlaws. Unfortunately I think street art has been inundated with carpet baggers hoping to capitalize on street arts edgy marketing so it rarely has what initially attracted me to it. Street Art is no longer a Movement, it's a Market. And that's fine, but I wish everyone would stop pretending it is some outlaw shit because its just a AAA farm league for Chelsea Galleries now.
NK: Your studio is filled with vinyl and plastic toys. When did you start collecting them and where are most of them from?
ALJ: I basically collect unpainted Japanese Toys (Godzilla Ultraman and a lot of others by smaller new toy companies).
NK: Some of these vinyl/plastic toys are your art pieces. Who have some of your collaborations been with?
ALJ: I've done toy design for Kid Robot, I have a new production toy coming out with Jamungo at some point in the future as well. Looking forward to that seeing the light of day. I've done a lot of custom toys for shows over the years as well, and most recently collaborated with NOOKA.
NK: Your studio is filled with art from your contemporaries as well as from your children. Did you also grow up with art all around you?
ALJ: Not really, my art was comics, cartoons, and advertising characters.
NK: If you could collaborate with any living artist who would it be and why?
ALJ: I'd like to collaborate with Metal bands such as Holy Grail for my Fugue State Records project.
NK: Who's on your ipod play list?
ALJ: Graveyard, Holy Grail (from Cali), Grand Magus, Baroness, Watain, Ghost, Spiders, Rainbow, Bombus, Kylesa and Horisont.
NK: What are some words you would use to describe your art?
ALJ: Its like asking someone what kind of music their band plays… hard to say. Funny, Irreverent, Confrontational, Clean, Raw, Cute.
For more on Abe Lincoln Jr. go to: