DAVID ALEXANDER FLINN STUDIO VISIT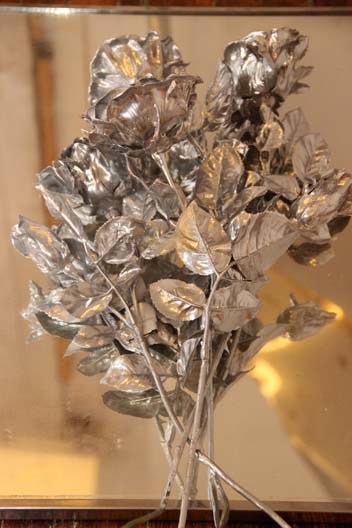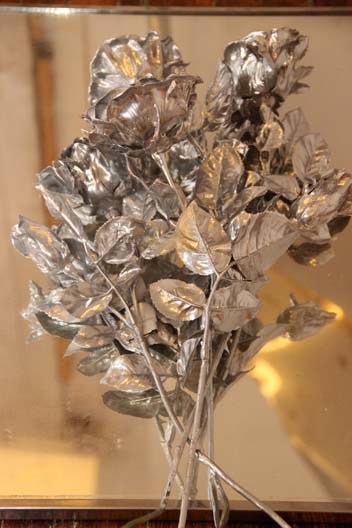 ARTIST STATEMENT:
NOR HERE NOR THERE
Natalie Kates: David, I first became aware of your work through an interview on you in the Unlimited magazine. In this interactive interview some descriptive words like, organic and modernism come to mind. Even in your studio you are surrounded by organic elements taken from nature which have been re-imagined in a modern way. Is this your aesthetic?
David Alexander Flinn: My studio is an alchemist lab of industrial and organic where nature and mass production interact and the moments frozen in time which are the actual sculptures and in these situations the one material language or the other tends to overpower one another. There are moments of contrasts and symbiosis and growth and defeat. Defeat is the large part of my work and vocabulary. It all comes back to this idea of how humans as organisms and as natural species have natural instincts and through society's progression and evolution we tend to be incubated in this stream line paths of morality and social behaviors that often times don't represent the instants and the reactions that we want to portray in that situation. And that is the moment which internal and natural self are slightly defeated by social infrastructure that were pre-encoded into, and forced on to by society, by parents, ideas, notions of morality. Thats the language begins.
NK: What strikes me about your studio and work is your restraint from color. Your palate is black, white and shades of grey. Is there a reason you choose these color ways?
DFA: The pieces of driftwood that's in a middle of the room is bleached about thirty-five times and that removes all the color, but there is a slight hue and ingredient which still exudes it's energy and allows the form to be understood better. I don's really believe anymore in just black and white, I think everything has a certain gradient, also time and progression. The pieces should be allowed to have their own voice in your work. I like letting material speak for itself , but it still needs to undergo some form of process, so it's a bit of a balancing act.
NK: Regarding the big piece of driftwood, where is it from? Is there one place in the country or beach you go to or did they just find you? As you know living in NY is a concrete jungle and the closest forest I know is Upstate New York.
DAF: I have a studio in Greenport, Long island which is pretty much all the way out on the North Fork and there is a beach there that is my temple, my getaway and a form of sanctuary where i go to find these relics of nature.
NK: Were you formally trained as an artist?
DAF: I went to School of Visual Arts, graduated in 2009.
NK: How did you come to be represented by Envoy Enterprises?
DAF: I have been very fortunate and blessed. I met Jimi Dams of Envoy Enterprises in the summer of 2009 being referred to by mutual friend. He gave me a studio visit and than gave me the opportunity to do a one day show. Envoy had a year long of one day shows, so every day for about 200 days prior each day they had a one different artist in the space. And out of those 200, two people ended up receiving a second show and the third show and when it was over I was fortunate enough to get signed by them. So I've been working with them for about four years.
NK: I know Jimi very well and his eye for emerging art and artist is supreme. I love the tension in you work, especially the driftwood installation in the middle of your studio suspended with chains. I think it says a lot about of where we are as a society and humanities constant struggle with nature. Can you tell me a little bit about your show in October of 2013?
DAF: This show will have a bit more of a whimsical take on what I've done before. Working towards these ideas of natural instincts and behavioral patterns and societal imposition. This show is going back before to where this molding begins and restructuring these tales of morality and guidelines . So, every sculpture and drawing has some relation to an iconic piece from a story told.
NK: Your works consist of sculpture, photography, drawings and watercolor. Do you have a preference or tend to gravitate towards one discipline?
DAF: I'm very physical and I love working with my hands so I`ll always find myself as a sculptor. Even my other works tend to have a structural element.
NK: You are also a walking work of art. Can you tell me a little bit about your tattoos and if they are your works?
DAF: I come up with ideas for my tattoos and collaborate with tattoo artist Myles Karr of Three Kings. We met when we were both quite young and now he's one of the most talented and successful tattooers out there . We just kind a clicked he did my first tattoo and ever since he is done all my tattoos except for the ones I've done by myself. They're my journal, my diary, kind of my progression, my armor in many ways.
NK: I also noticed your tattoos are the same color tones as your art work. They are black, white, and with shades of gray.
DAF: I don`t really like color, my dress code usually consists of black as well.
NK: Did you always want to be an artist?
DAF: No, I used to be an architect. I've always been fascinated by architecture.
NK: When did you realize and commit to being an artist?
DAF: I think it was when I was a sophomore in high school and I got into some legal troubles and was looking at time. I didn't end up going to jail but I got a lot of community service and realized this is an amazing opportunity, a lot of my teachers told me about the talent I had and I just buckled in. When you are feeling trapped and cornered, is when you start seeing the most important things in your life. I pretty much lived in my studio for three years.
NK: When you are in your studio creating works of art do you listen to music and if yes what do you listen to?
DAF: Lots of NPR, classical music, blues, doo wop, camron and pusha t.
NK: You seem too young to know who Bach or Beethoven is.
DAF: I'm an old soul.
NK: What do your parents do and do they support your career in art?
DAF: They're both professors of Economics. They've been very supportive. I was always a bit of a troublemaker, so they were like "You really don't have to go to college if you don't want to" and I was like "You know what, let's try one thing" and I applied to SVA and I turned in my application the same day it was due they called me the next morning and accepted me, I guess I was meant to be.
NK: There's one question that I ask every artist that I visit, and I am going to ask you the same: if there was another artist, living or deceased, that you could collaborate with, who would it be?
DAF: Robert Smithson. He's the guru of it all in my opinion.
NK: And if there was any museum that you could be in, what museum would that be, and why?
DAF: Tate Modern, London. I love the entry space, I've designed the piece I would do there for about seven years now. I've been re-working that one piece.
NK: I'm a sci-fi geek, and whenever I enter Tate Modern it reminds me of the closing scene of Close Encounters, when the spaceship opens up, it's hatched up and all the aliens come out. It has this beautiful ramp inside. I think your work is beautiful and I think your show in October is going to be very well received. Thank you for taking time to meet with me and giving me a glimpse of the man behind the work.
For more on David Alexander Flinn go to:
www.davidalexanderflinn.com
www.envoyenterprises.com