Studio visit with Gary Gagliano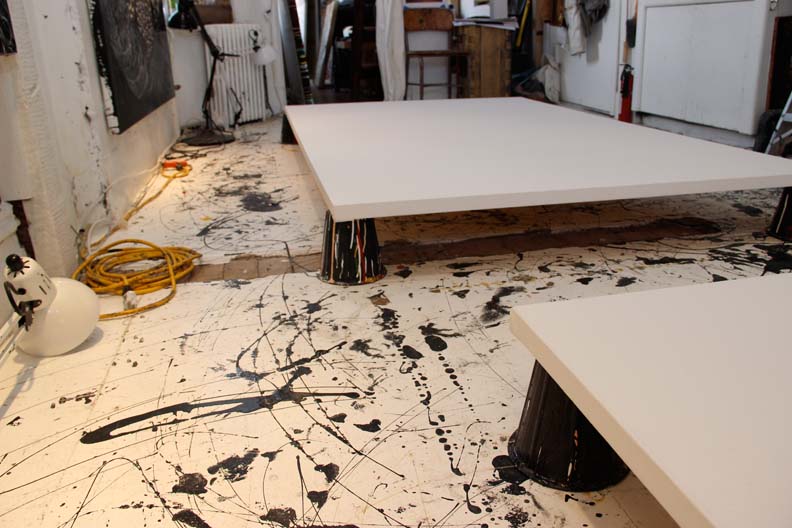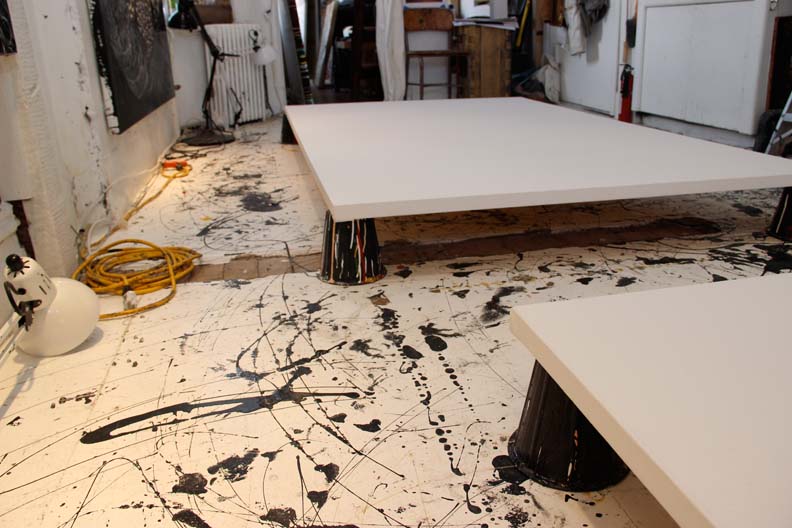 NATALIE KATES: Gary when did you start referring to yourself as an artist?
GARY GAGLIANO: I've always felt like it's been a part of my life since I was a kid, always painting drawing, like if someone realizes early on that they're a musician or dancer. But it still feels more comfortable to call myself a painter for some reason. I remember saving all my money for design markers trying to collect every color of every shade! I used to trade portraits for candy when I was in, like, 5th grade.
NK: How does your creative process work? Do you think of an idea or does the material delegate the end result?
GG: The creative process and the technical process seem to come along simultaneously in layers rolling along like two gears in motion. The first layers are pretty spontaneous and expressive, but as it moves along and the pieces moves from the big picture into the micro I get much more controlled for sure, but the material does have a mind of its own that I count on for part of the process. They become a bit architectural also, they feel much like the way a building is constructed on.
NK: You paint on large-scale canvas; some of the triptyph works up to twenty feet long. Is there a reason you create on such a large scale?
GG: Everything just flows better for me on a larger scale, ideas and movement come much quicker for me the larger the scale is.
NK: You spent time in Thailand and became a Buddhist monk for a period of time. Does being Buddhist influence your work?
GG: I don't think it influences the work directly to the point where it becomes something visible, but it has made me more patient which in turn does help the process of painting a lot. I'm influenced by all types of things, fashion, music, dance, life! The actual construction of temples has influenced me though. Architecture is a huge influence for me.
NK: What's the hardest thing about being an artist?
GG: All the money!!!! I don't know what to do with it all!!! HA!!
NK: Who are some of your favorite artists?
GG: BAST is my favorite artist to date by far. So effortless it's amazing! I grew up idolizing Ivan Albright, and I think Tim Hawkinson is a master.
NK: If you could be in any museum, which one would you pick?
GG: The Tate Modern.
NK: If you could have a conversation with anyone living or dead who would it be, and why?
GG: The pioneering engineers of NYC in the late 19th century, the men and women who have lived and still live in every jungle on this planet, and David Byrne, all for the same reason: to get a glimpse into the courage and innovation which it took and still takes to survive in the worlds they reside.
NK: Are any of your tattoos your art?
GG: No, I don't pick any of them, they are all chosen by the monk that tattoos them on me.
NK: Do you listen to music in your studio? If so do you prefer the radio, ipod play list, CD's or records?
GG: I the love the radio, I enjoy not knowing what's coming next. Or, I'll play the same song on repeat all day if I really need to focus and dive in.
NK: What music genre do you prefer?
GG: I listen to a lot of everything, the stage of the painting will dictate the type of music usually. In the beginning the music is loud and fast maybe rock & roll or something. As the painting moves forward the music gets slower and easier to pick apart, like minimal electronic or classical.
NK: What are some words that could describe your art?
GG: OBSESSIVE!!!!!!!