Studio visit with Jason Urban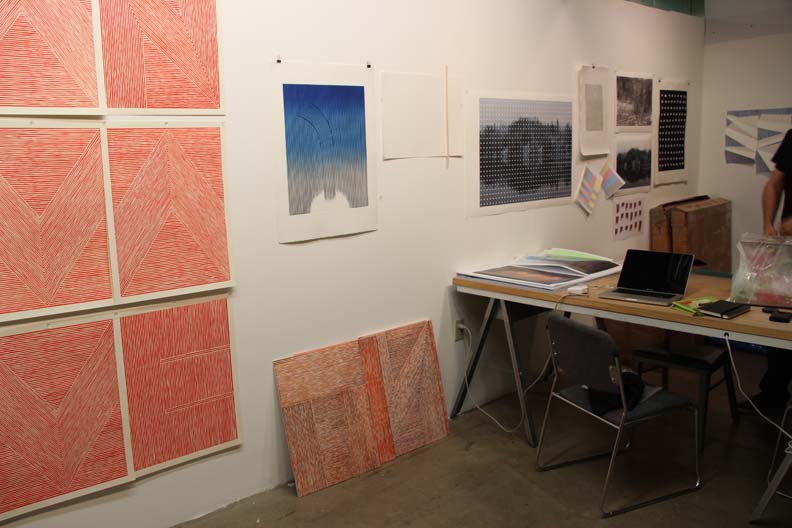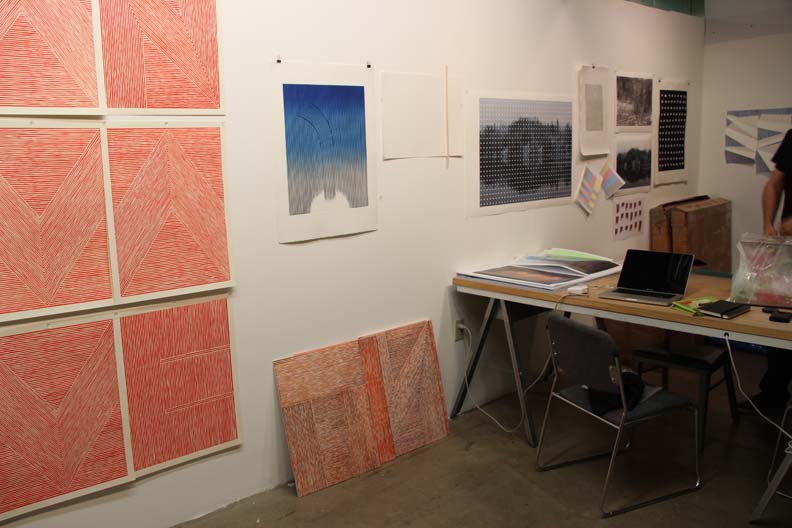 ARTIST STATEMENT
Through pattern and repetition, I aspire to evoke the repose of nature as well as the frenetic energy of an endless RSS feed. I make images that are objects and objects objects that are images.
Natalie Kates: Jason, there is a saying: "don't believe what you see." To me this holds true when it comes to your works. They play with optical illusions, in some cases confusing the viewer until their eyes focus in on the art. Where does your inspiration come from to create this visual language?
Jason Urban: My works consist of gradients and color shifts referencing a second- hand experience of natural phenomenon. I focus on systems of image/object generation that require meticulous and monotonous labor. I have an endless appetite for repetition. This inclination has led my work to embrace printmaking, the very essence of repetition: obsessive- compulsive work. I commit mundane physical acts- drawing stripes, carving dots, or pulling screenprints ad infinitum and through repetition these banal gestures become a stand-in for the sublime. Through quantities of vibrating pattern and color, my drawings, prints, and installations simultaneously evoke the repose of nature and the noise of an endless RSS feed.
NK: When I google your name I see lots of references to www.printeresting.org. Can you tell me a little more about this site of which you are a co-founder?
JU: The easiest answer is that it's a blog about printmaking but that's a simplification. Printeresting is a project I started about four years ago with two friends, Amze Emmons and RL Tillman. It began as a research platform, a place to discuss interesting print, but it's evolved into an art project in own right. As an extension of the website, we write, curate, and produce events, exhibitions, and publications. It's been a rewarding project because it focuses more on community more than any one individual.
NK: Y ou currently teach printmaking and foundations of drawing at the University of Texas. Having this perspective, do you feel creativity can be taught or do you feel it's more innate?
JU: Creativity is a slippery term. I think you can teach students strategies and techniques. And I think you can expose them to new ideas and push them. Creativity isn't very useful if you're not prepared to work.
NK: When you are in the creative zone do you listen to music? If yes, what is on your current ipod play list?
JU: Austin is a music town but I'm not really a music guy. In my studio, there's a steady droning of NPR. Depending on the time of day I stream KUT, WHYY, KQED, KCRW, etc. I'm also a dedicated listener of the Slate Political Gabfest. It's the best.
NK: When in Austin, Texas I had the luxury to visit your studio and the first thing I noticed was how organized and clean you are. Would you be able to create in clutter?
JU: I need order to think clearly. Things can get messy while I work but I try to end the day by straightening up. It's a good way to wind down and it makes it easier to start fresh the next day.
NK: What are your thoughts on social media when applied to an artist career?
JU: It's important. That said, I use social media for Printeresting for more than for myself.
NK: Is there one artist tool you can't live without?
JU: No.
NK: Do you collect art? If yes what is your favorite piece in your collection?
JU: I usually trade for prints and buy gigposters. I'm a regular at the Flatstock poster convention. I don't think I have a favorite piece but I'm a big fan of Sonnenzimmer and love everything I own of theirs.
NK: Texas is usually not associated with art. Yet, Robert Rauschenberg was from Texas, and Marfa, Texas, is on every art fan's bucket list. How do you feel about the art community in Texas, and, specifically, Austin?
JU: I've been in Austin for four years. I think there is a small but solid community. T he idea that you have to be in a major hub like NY or LA to be an artist seems old-fashioned. Those places are important but from a quality of life standpoint, living in Austin has been a good thing for me.
NK: If you could choose an era or point in history to make art which would it be and why?
JU: I think I'm satisfied to be in this moment.