Studio visit with Justin Strom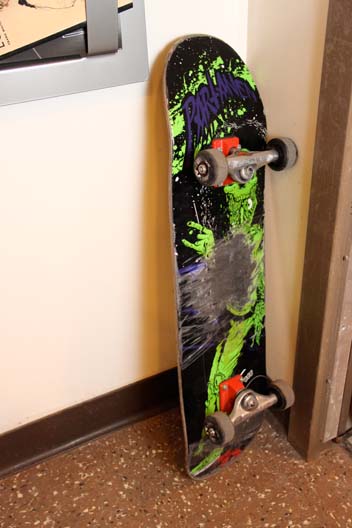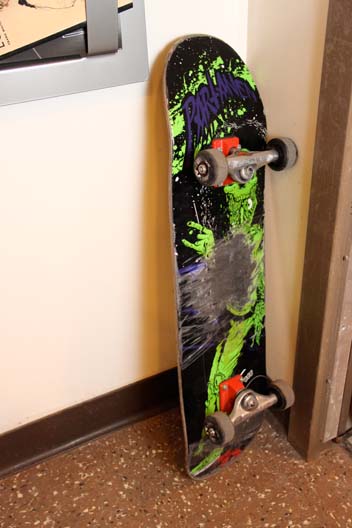 NATALIE KATES: Justin, on top of being an artist in your own right you are the art's professor at the University of Maryland. What was your formal training?
JUSTIN STROM: I hold a BFA in painting from Columbia College in Columbia Missouri, and a MFA in studio art from the University of Wisconsin in Madison, Wisconsin. During graduate school I worked and trained at the collaborative printmaking studio (Tandem Press), and continued to gain experience working with artists as a collaborative printmaker at Highpoint Center for Printmaking in Minneapolis, Minnesota.
NK: Does your teaching influence your creative process as an artist and, if so, how?
JS: Most definitely. Working with students is a constant exchange of information that allows me to grow with them as the world continues to expand. I expose all of my personal techniques, concepts and experiences to my students, which they absorb and employ in new and exciting ways that pushes my own creative practice.
NK: Have you ever collaborated on art projects with your students?
JS: Yes, I consistently create and participate in collaborative art making events with my students. The most successful and exciting events have been collaborations between my students and other schools in the area. For the past several years a college or university printmaking studio had hosted a two-day printmaking collaborative event that includes sometimes up to five schools. Participants have been asked to bring imagery to print using screen printing, monoprint and letterpress to work together to produce artwork that is shown in an exhibition at the conclusion of the print blitz. This offers us an opportunity to exchange creative techniques and concepts, while ultimately fostering new relationships and networking among artists and institutions in the region.
NK: One of your projects is Satan's Camaro: collaboration with artist Lenore Thomas. Can you elaborate on it?
JS: In Summer 2007 I embarked on a collaborative effort with University of Pittsburgh professor Lenore Thomas during a residency at Anchor Graphics at Columbia College in Chicago, Illinois. This effort, Satan's Camaro, is a fresh contemporary approach to innovative printmaking methods and imagery that combines screen printing, mixed-medium techniques and other unique processes that are key to our research.
Visually influenced by sub and popular culture, my collaboration creates mixed-media screen prints that navigate through a wide range of subcultures such as hot-rods, tattoos and punk music, and recently include manufactured limited-edition toys, sculpture, digital art, and illustration. Our goal is to expand our ways of seeing while exploring the collapsing distinction between high art and low art culture. The use of humor as a descriptive, loose narrative through titles in the collaboration has been utilized since our beginning. These are usually popular culture references used in music and movies that use vulgarity and stupidity as a tool for shock value. This can be seen in our mining of musical pop star Kanye West's "Twitter" account for all of our 2011 work titles.
NK: During my studio visit you told me you preferred printmaking as your medium. Why?
JS: I will always remember my first experience in an undergraduate printmaking class of running an etching plate through the press and pulling back the blackest to see what happened. It was exciting to me to use a very controlled indirect process to create a new mark-making vocabulary. As a painter who was familiar with the directness of brush to canvas, I was oddly drawn to a medium that is all about delayed gratification. I wanted to understand why the processes work to eventually employ them in non-traditional ways. Printmaking is a community that is built on tradition, but is constantly exploring new technical and conceptual avenues to expand it's future. I'm currently interested in the area of digital printmaking, specifically how it can expand past the purely digitally printed image to create mixed media hybrids.
NK: Can you tell me more about your tattoos?
JS: My tattoos are a visual history of inspirational elements I have used within my work over the years. In my artwork I often veil my figures with transparent pattern work or circles that reference the aesthetics of electronic architecture. I have always been interested in the intersection of man and machine, quite possibly stemming from my childhood memories of reading books such as Ray Bradbury's The Illustrated Man, and watching movies like Blade Runner. I like the idea that elements and personal symbolism within my art making practice eventually become a permanent mark on my own body.
NK: In the corner of your studio there's a skateboard. Do you still skateboard and what's the best trick you can do?
JS: Yes I try to skate with a group of friends at least once a week to keep me young. My best trick is to avoid face-planting in front of a bunch of twelve-year-olds at the skatepark. On the other hand, that level of embarrassment can be a very humbling and educational experience.
NK: Do you collect art?
JS: I mostly collect prints that I have traded over the years with other artists, as well as artist proofs acquired while working as a collaborative printer. I have built a pretty vast collection of work, which I employ as a teaching tool to give students an up close view of current artists' work. One of my most prized print possessions is a large print by the director "David Lynch" which hangs in my home studio as a source of inspiration.
NK: Is there any artist you would like to have in your collection?
JS: Canadian artists Nicholas and Sheila Pye.
NK: What are some words that would describe your art?
JS: Retrofitted, Engineered, Augmented.
For more on Justin Strom: