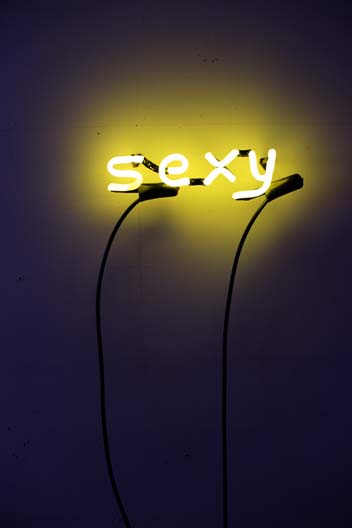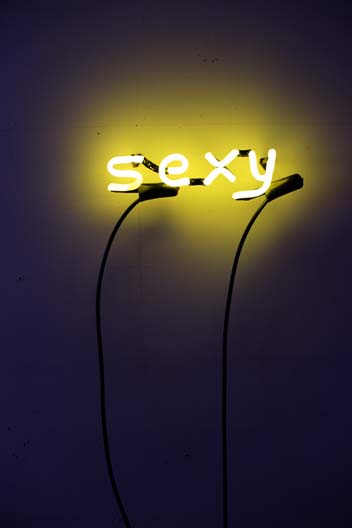 NATALIE KATES: Norma, I discovered your art during a solo exhibition at Y Gallery on the Lower East Side and fell madly in love with your neon sculptures. After that, I was invited to do a studio visit and had the same feeling when facing your "touching, poetic, cultural phrases". Where do the references come from in your neon sculptures?
NORMA MARKLEY: A pastiche of language appropriated from the likes of Nabokov, Bukowski, Bataille (baton twirler, Heeeheeeheeehehehehe…, ICE, giggles) source the work. I keep notebooks of words and phrases. Then, a sort through them making more lists and putting words together until something hits me.
NK: Where did you get your formal art training?
NM: I went to the Cleveland Institute of Art (a.k.a. CIA) and Columbia University.
NK: At what point did you think or feel "I am an artist?
NM: In elementary school I recognized the "artist" in other first graders and decided I wanted to do what they were doing. I felt like "I am an artist" when I moved to my Greenpoint studio and worked on my work everyday.
Working daily generated the gift of new ideas, often unexpectedly.
NK: Do you have a medium you prefer to work with?
NM: I began as a painter. I loved to paint but eventually the paint got in the way and, when I moved to New York, materials and ideas were plentiful. My painting and drawing background has become integral to my work in cut paper collage, embroidery and neon.
NK: What have been your sources of inspiration when creating art?
NM: Art Deco motels, 50s color schemes, color chips from paint stores, literature, dialogues from movies
NK: Do you feel women artists are treated and viewed differently and, if yes, how so?
NM: I'll invoke the Fifth Amendment.
But as The Beatles sang:
It's getting better all the time
Better Better Better
It's getting better all the time
Better Better Better
Getting so much better all the time!


NK: As a woman who is an artist is there any advice you would give to a girl just breaking into the art world?
NM: Get "naked"—ask yourself what you would most like to do. Then, fearlessly mine it. Life travels in a squiggly line. Work hard, have fun doing it, and hope for some good luck.
NK: What music are you currently listening to?
NM: Musicians that interest me are The Smiths (Morrissey's voice + lyrics), Leonard Cohen (voice + lyrics), Beck (stage presence of performers + their puppet show of themselves performing), Björk (voice + barefoot stage presence + lyrics),
Chet Baker (voice + trumpet playing).
NK: If you could collaborate with another artist who would it be and why?
NM: Today Andy Warhol over Picasso but tomorrow Ree Morton might win over Andy Warhol. I love everything that Andy Warhol did. I appreciate how Warhol dealt with what's real and with what's fake. It's an ever-changing experience looking at his work. Not too long ago I saw his pop-up books at Harper's Books and his film and video work at The Warhol Museum in Pittsburgh.
NK: Your work has been described as "thoughtful symbols of throwaway culture". How would you describe it?
NM: I make cut paper collages involving delicate and detailed handiwork, thoughtfully use thread to embroider drawings, and write with the glow of neon tubing. I like to look at the areas where different disciplines overlap and test their boundaries.