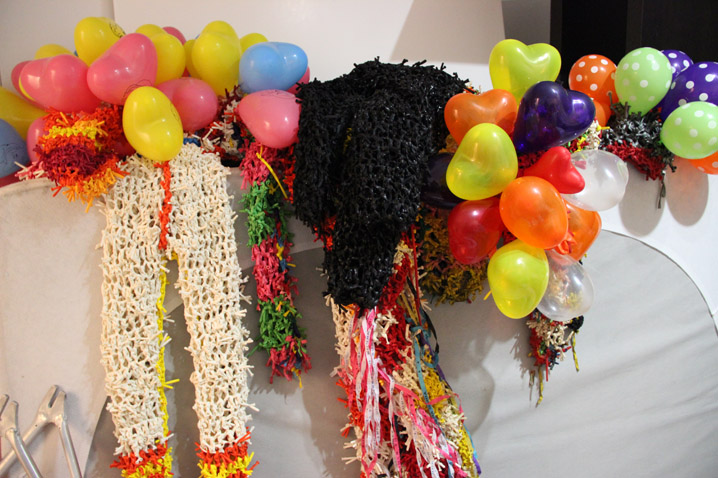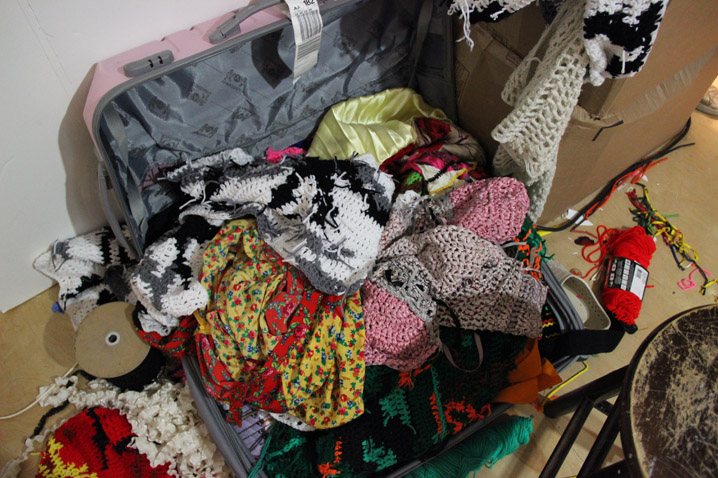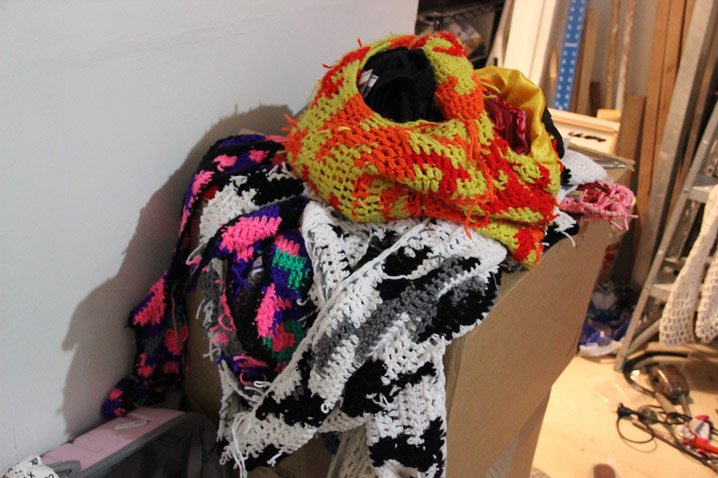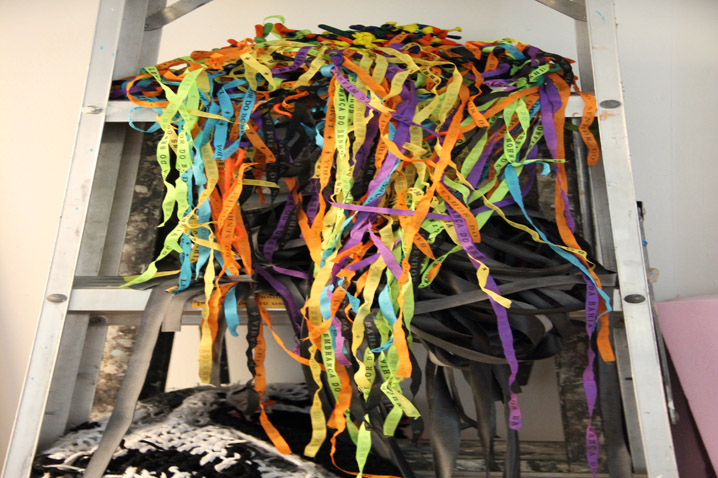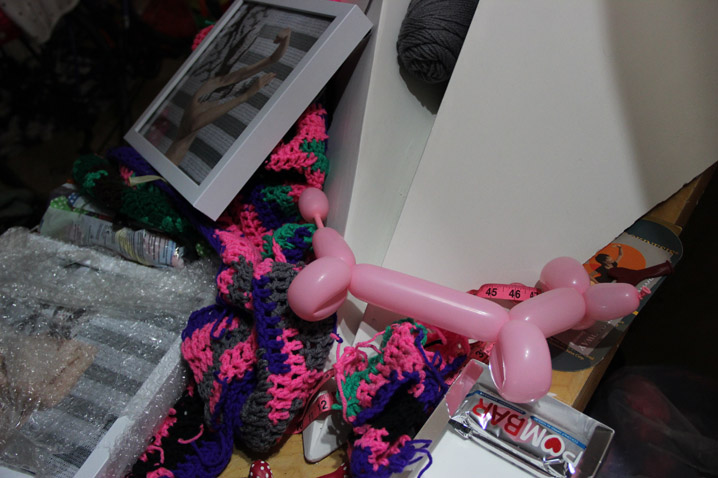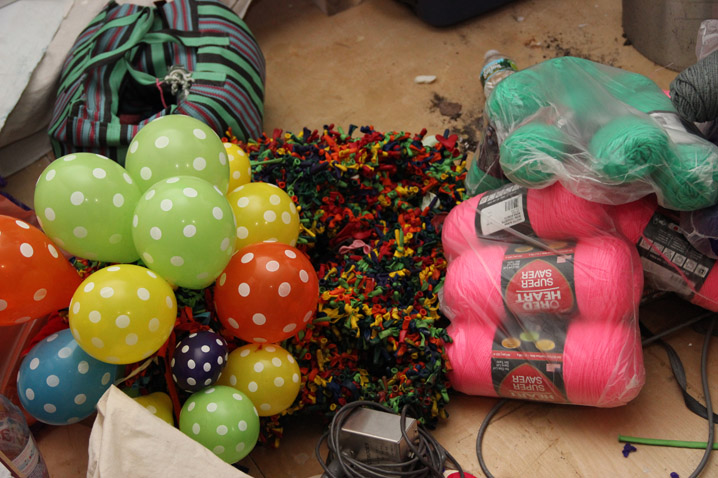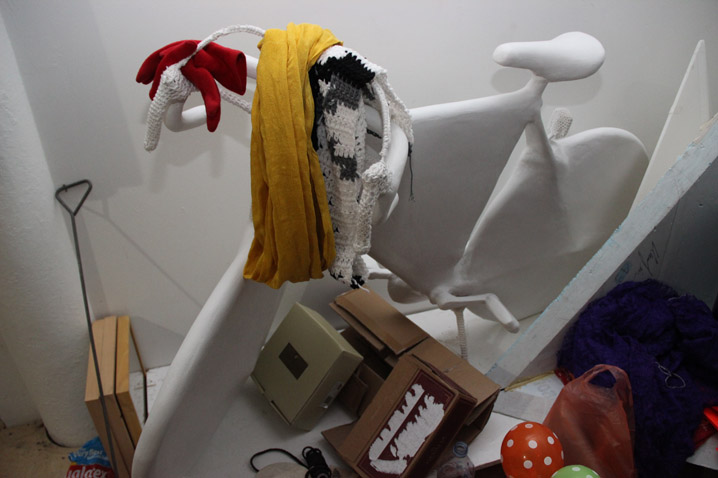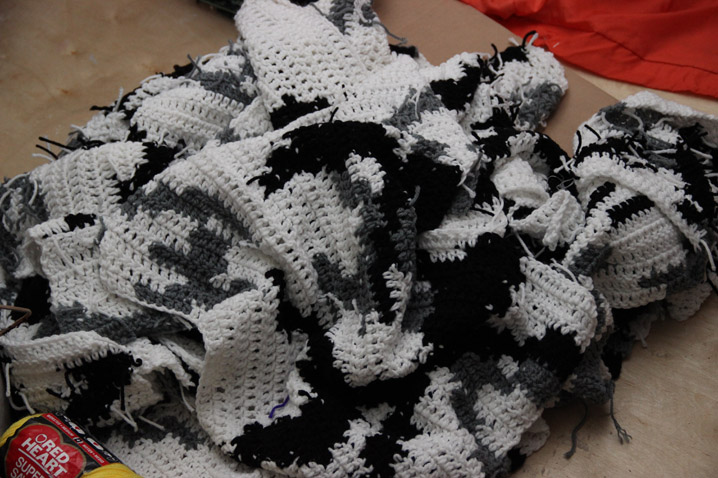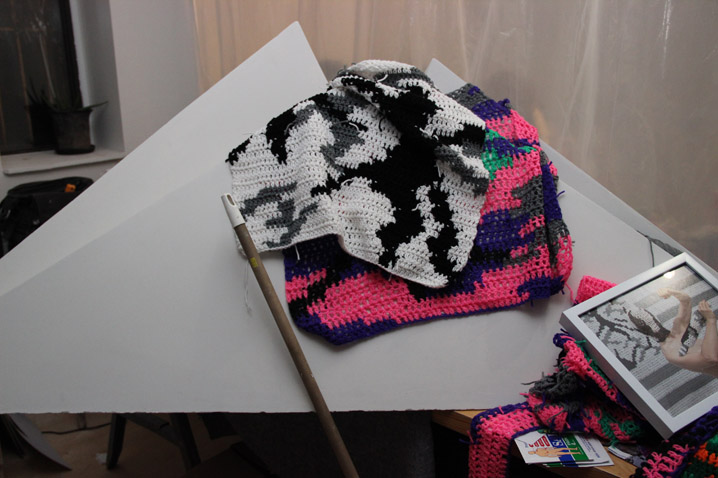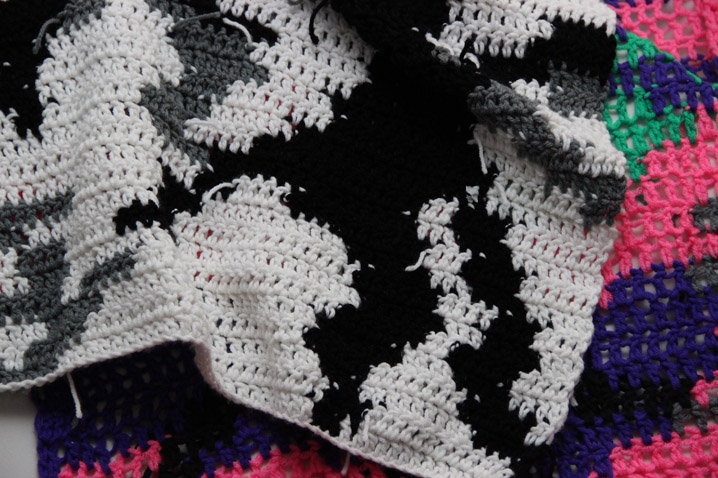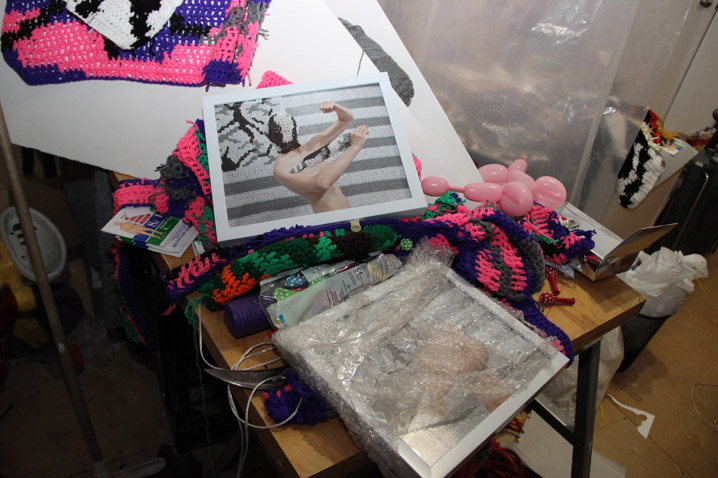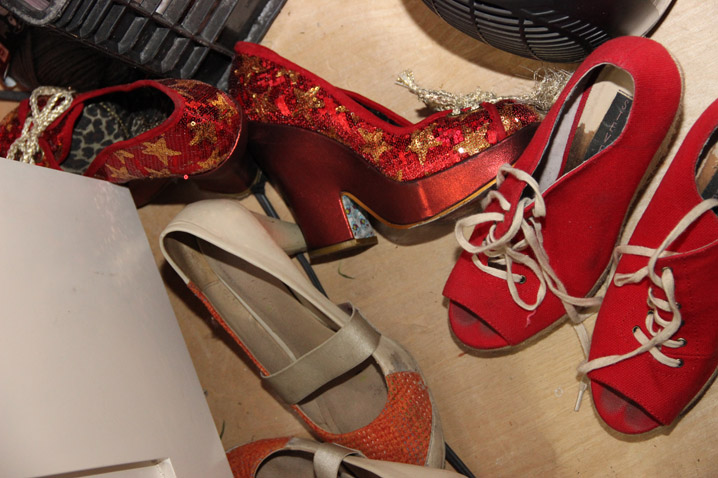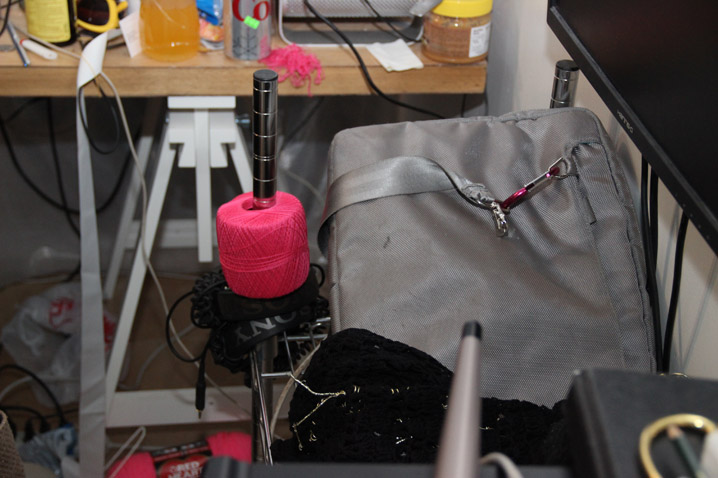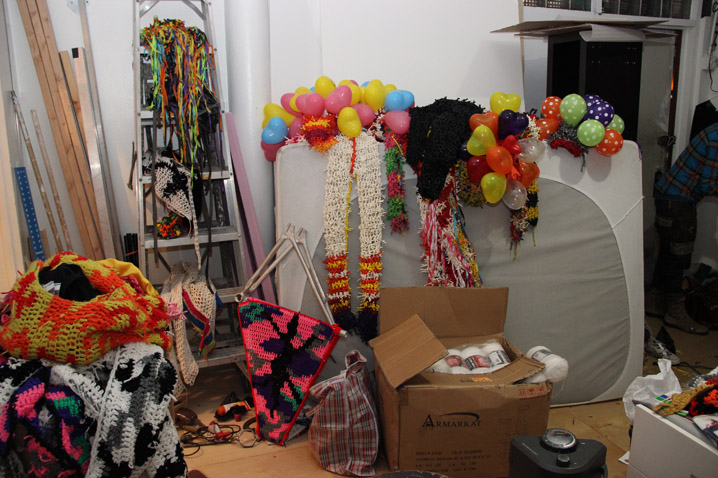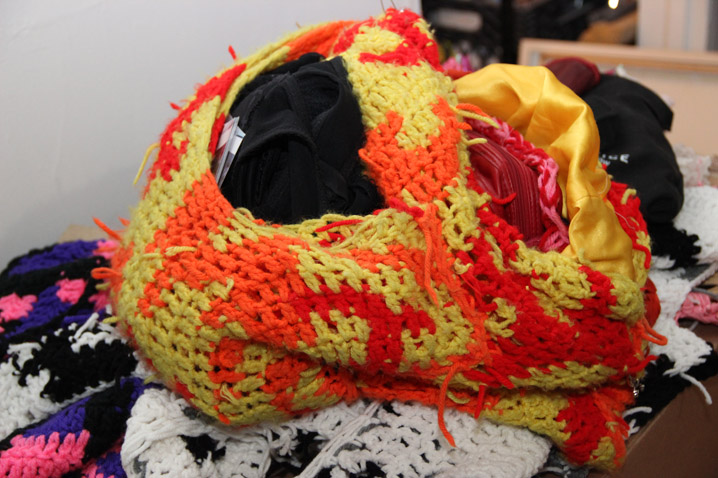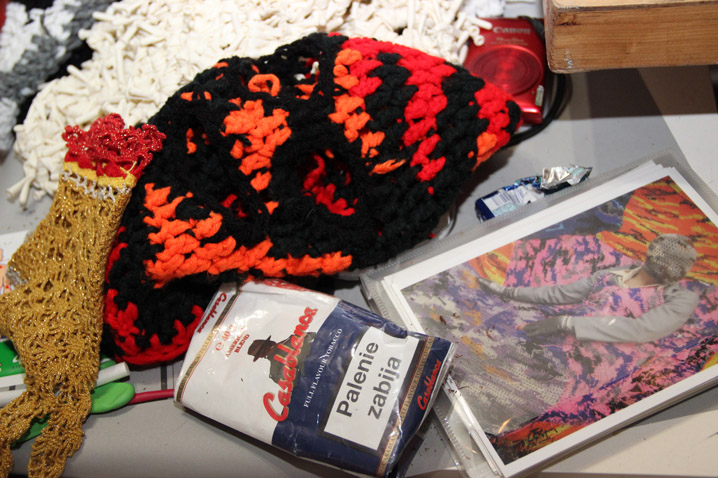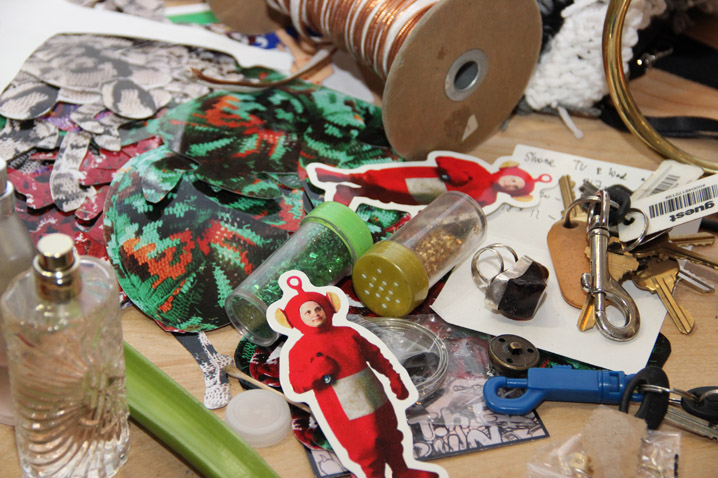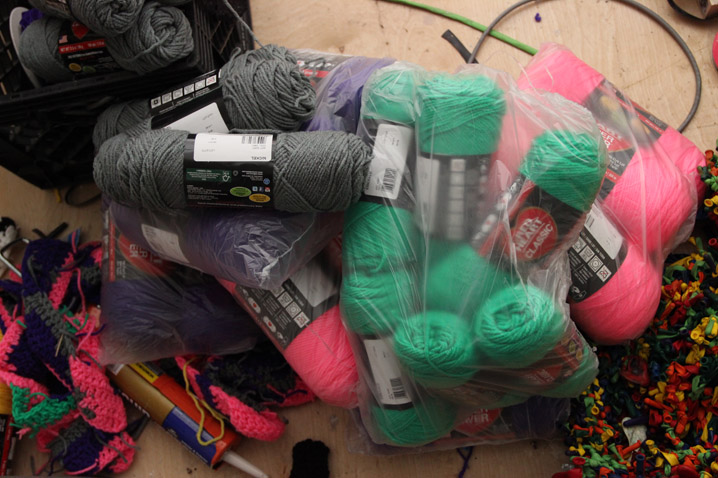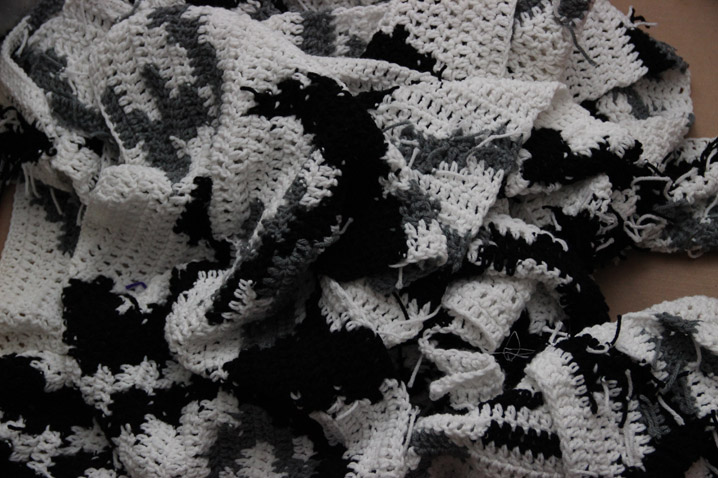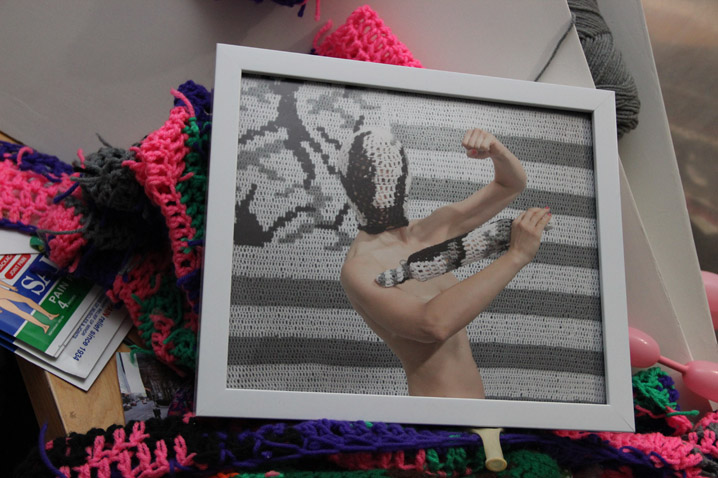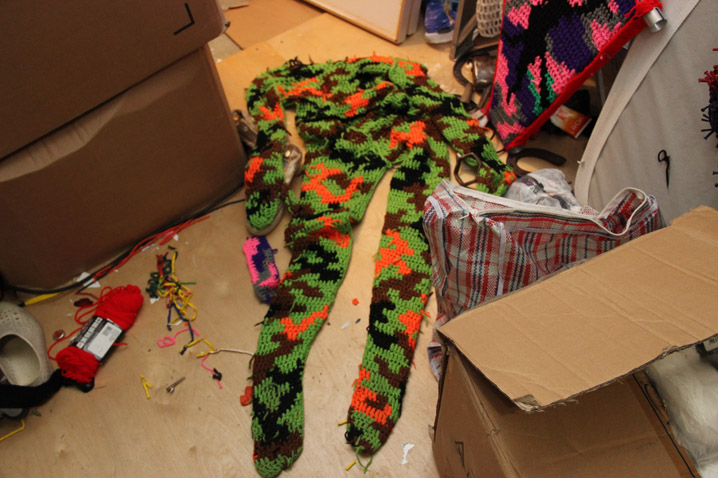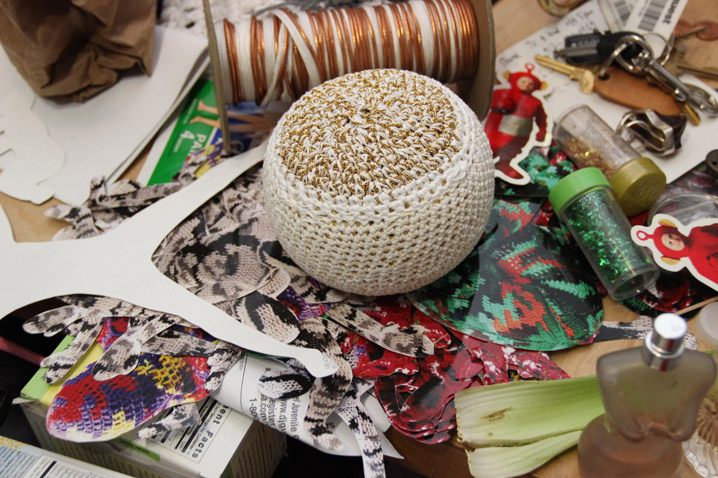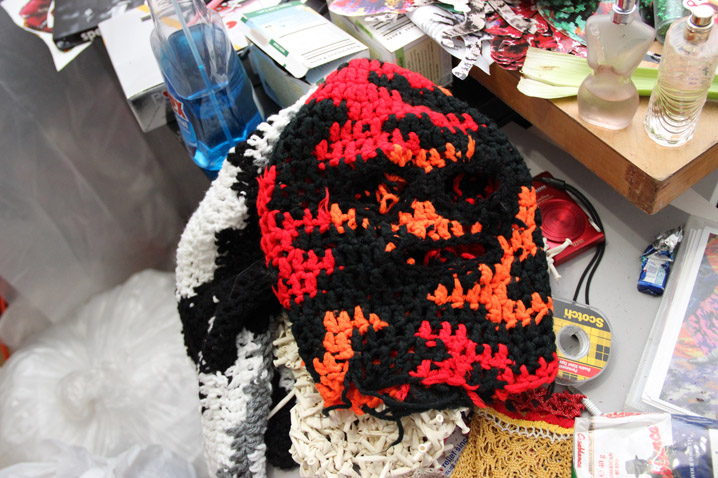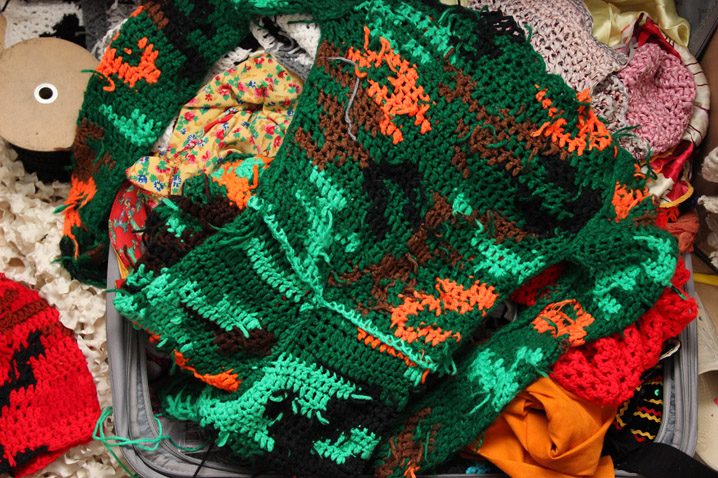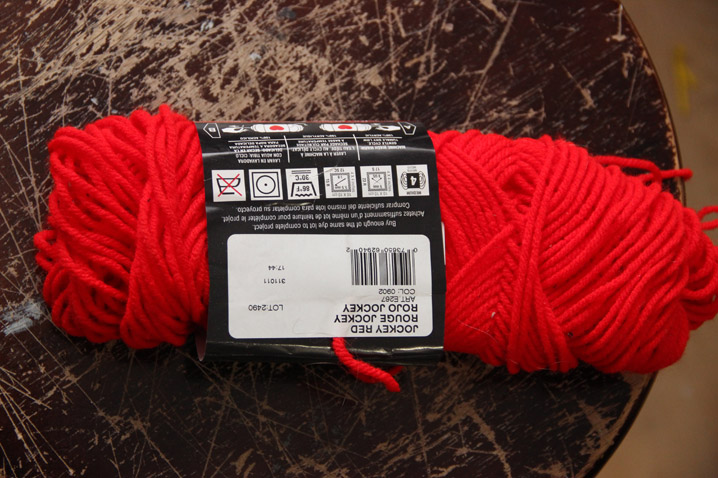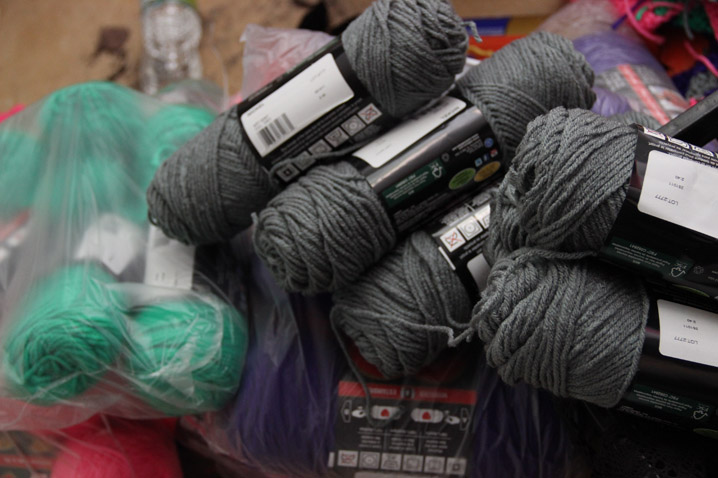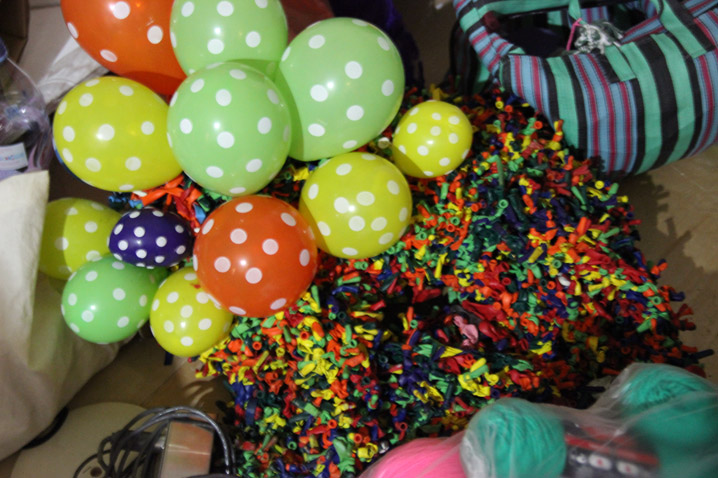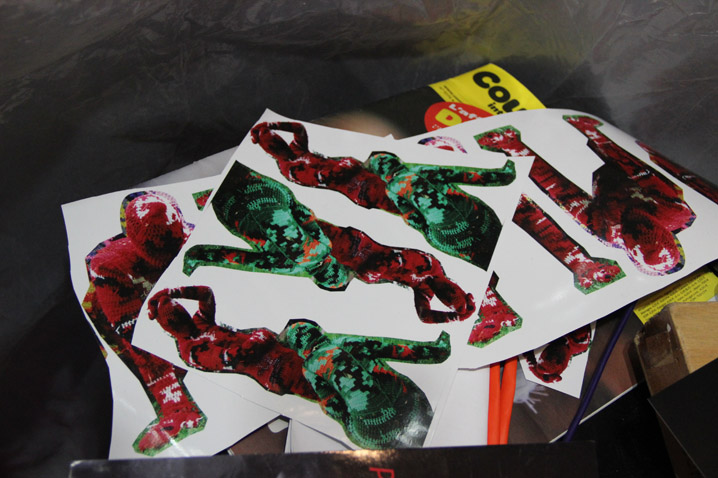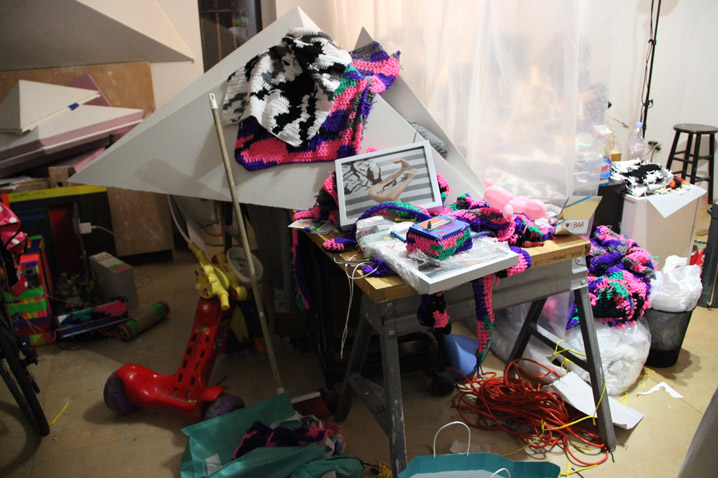 Natalie Kates: I'm in New York's East Village in the studio of artist Olek. Is that your real name? I ask because a lot of street artists have an a.k.a. - a kind of an alter ego.
Olek: Olek is my real name.
NK: Where are you from?
O: Poland.
NK: Now, how old were you when you first came to NY?
O: Twenty-two.
NK: Some of your crochet body suits remind me of superhero costumes. If you could be a superhero, who would you be, and why?
O: I am a superhero!
N: What is your superhero name?
O: Olek of course!
NK: I love that. Now how did you get started crocheting?
O: I was dumb enough to start, I think that's the reason. There a few different moments in my life how I started crocheting. But the major one was when I moved to NY and was totally broke and was asked to make costume design for a friend, for dance performance, and I couldn't afford buying sewing machine and I realized I could crochet these pieces together. And then, I was working as a babysitter and for my one-week salary I actually went to Harlem and I bought a sewing machine. At that time I was both sewing and crocheting. A couple of years later I chose crocheting as my artistic medium.
NK: Are you a formally trained artist?
O: No.
NK: Sometimes I think that is the best, because it comes from the soul, it's innate.
O: Actually, I would say that for the first twenty-four years I was escaping to be an artist, I was running away from that. I was studying culture studies and wanted to be a film critic, an art critic on emphasis on film, and then I moved to New York, I was jumping from school to school for my visa, cause I was an immigrant and I had to somehow find a way to stay here in the country. And one school I chose was the most affordable school called LaGuardia College, and they had fine art program, so I thought I should take classes and just pass by and that really changed my life. One professor was, like "Did you graduate from art school in Poland?" I was, like "No", and he said "That's probably good for you because it's so bad that you would have different approach to work". So, you know, I paint the world as I go, I am painting this or that fabric that I have.
NK: I am looking at you now, and you are gorgeous woman. Everything you are wearing including your purse is touched by your art. Your look is refurbished, re-tweaked, or defaced by crochet. In essence you not only bomb pieces on the street, but you wear your art as well.
O: When I was a little girl, I would pick up all the blankets at home, use safety pin to put them together, and I was also saying to my parents that I would be a fashion designer and live in Paris. Now I live in New York, but since I was a little girl I was designing my own clothes. I grew up in Poland during socialism and we had nothing in the stores, so the only way to have something interesting to wear is to make it for yourself or for your family. And my mother's brother lived and still lives in Rochester, New York. So, he'll send parcels to Poland, but if you send anything valuable the government will take it away, so he'll start sending beautiful fabrics. And I remember my first time, I was four years old, I had a seamstress, and she would make clothes for me, by looking at what she was doing I was able to make clothes for myself and my dolls. That's how things started for me
NK: So, almost out of necessity you were able to hone in on and master your craft?
O: Yes.
NK: As a collector, and somebody who speaks about art, one of the funniest things is that I don't have to hang your work on the wall – I could actually wear something of yours, and I could be, in essence, a walking art gallery.
NK: I find it interesting that you are known as a street artist. But you don't spray paint, wheatpaste, or stencil. Your contribution to street art is known as yarn bombing. How did you fall into the world of street art and yarn bombing?
O: Honestly, I was yarn bombing before the term even existed. My first piece was on the street in a way, because I crocheted my first pieces in 2002, some would just have photographed it, and then I realized that the object changes so much from the place where you put it. And then later, when I had my first show in Chelsea in 2004, the installation was inside the gallery but the major piece was outside – we opened the window and the piece was hanging down the street. So, in a way, my instinct was always putting things on the street and in a way, showing them to people who never entered the gallery, that's what's always interested me. So, not only placing the object there, but also introducing the work, introducing the art in general to public, to random people who pass by who are not art educated, who don't know anything about this part of culture, and I feel that they have the right to see it, and they are sometimes scared of galleries like they are not supposed to be there – so it was my instinct from the beginning to put things on the streets and be part of that, I mean, really big year for me was when I was doing little public installations: I went to Venice and covered all the benches of Valdese, people were taking this project from place to place; I went to Istanbul and I covered all the windows on a boat that runs between Asian and European side of the city; it was really spooky and scary and I took the big ladder and I stapled pieces down on the window and it totally transformed the space, so in a way I was working with objects outside because of my instinct that those things, objects, environments need to be transformed by my hand. So, in a way I feel more like public artist then street artist.
NK: Speaking about the art world it can be quite intimidating for people outside. Have you experienced firsthand the elitism of the art world, or do you feel you have you been embraced by the art community?
O: I can't complain. And, also, I don't create art just to create a piece. From the beginning, every piece I create for a particular reason, for a particular show, event, or somebody. Especially in the last year and a half I got really nice e-mails and responses from major street artists who were saying they like my work and they really like what I am doing. It is so different from what they are doing, but it really meant a lot to me to hear from artists who are in different places than I am, and they are all, like, pushing my work saying "You are doing great, just keep going where you're going".
NK: Speaking of fellow artists, who are some artists that you admire?
O: I always said that I admire Olek.
NK: That's a good answer. Now, when you create, do you listen to music or do you need to have silence as you are knitting?
O: Oh, no, no. As I'm crocheting!!
NK: Sorry, crocheting, my bad. You're going to slap me next time I make that mistake!
O: Next time you are going buy me a bottle of Polish vodka.
NK: Deal!
O: To answer your question when I crochet I watch movies. I watch a lot of movies. I watch so many movies a day that it's insane. I love film and movies, friends of mine are always bringing me movies etc. At one time in my life I wanted to be a film critic, I'm crazy about it in a way, cause the work takes so many hours to produce I need to have something to keep me awake. Movie after movie, next, next, next, and I spend the whole day, whole night, being awake - not drinking coffee, but watching movies.
NK: And what are some of your favorite movies?
O: For somebody who watches so many movies it is very hard to say. But at some time, I wrote my thesis about Peter Greenaway, a British artist and a filmmaker. I really love this artist, I think he's amazing and in a way they relate my work to his form of expression. When I read again my thesis a year ago, I realized that whatever I wrote about his work relates to my own statements, to my own "interventions". Like, the symbolism of costumes, and how he borrows the works from other painters, and in my work you always see the relationship between my work and certain aspects of other painters or photographers, like I did it in Olympia scene, I did the work based on Magritte, but all artists imitate the great artists still. The show I went in London that's still open, the title of the show is 'I don't expect to be a mother but I expect too day long' (?) is based on Tracy Amy, so in a way I go back through history and, in a way, for me, it's about highlighting the important moments that happened in our history and bringing them back by transforming them through crochet.
NK: Beautiful. A couple more questions: if you could crochet any monument which would it be?
O: White House!
NK: What colors would you crochet the White House?
O: I think that if they allowed me to crochet the White House I'd do anything they want me to do. But, I would go with this camouflage pink, I feel like that would be really amazing.
NK: The colors that you choose, is there a rhyme or reason to them or do you just go to the yarn store and buy what is available?
O: I do not buy yarn anymore. I have a yarn sponsor who supports my art and sends me boxes of yarn.
NK: Who is the yarn sponsor?
O: Red Heart. I started using them in 2005, when I started crocheting with yarn – cause I love the colors and the acrylic material, so you can wash it and do whatever you like with it and it will stay forever. Like I said – when the human race ceases to exist, what will remain is cockroaches and my pieces made from this acrylic yarn.
NK: I think that your work is beautiful. Where could somebody find more of your work online, do you have a website, and if you do, what is the web address?
O: oleknyc.com
NK: Perfect. Thank you so much for taking time out of your busy schedule to speak with the style curator!
O: Thank you!