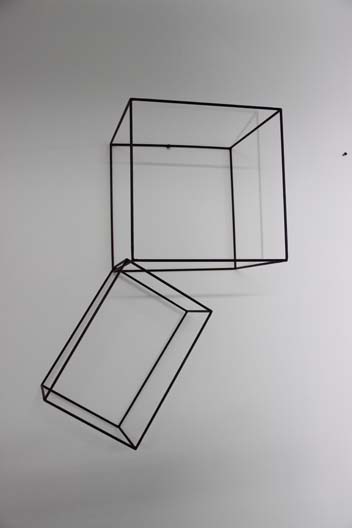 Artist Statement: Inspired by his urban surroundings, conceptual artist Raul Mourão marries fragments of the real and imaginary in his mobile sculptures, drawings, videos, and performances. Using meticulous, seemingly architectural drawings as his starting point, Mourão creates minimalist abstract sculptures and assemblages that focus on the tension between the raw chaos of the city and its controlled geometry, incorporating referents such as metal railings, security systems, fences, and objects reminiscent of trolleys and stalls. He also creates surrealistic films that offer glimpses of peripheral urban experiences with dreamlike juxtapositions of disparate objects.
Natalie Kates: Raul, your studio is filled with miniature mock-ups of sculptures, photography, metal wall sculptures and paintings. Is there one media you prefer to work in?
Raul Mourao: I've worked with different medias ever since the beginning, 25 years ago. I was never interested in becoming a specialist; I began with drawings, than started doing sculptures, than videos – part of my work have always been about mixing medias. The studio is very much a reflection of this broad spectrum of medias, and a kind of lab to test how they relate to each other. Where different series live together not always in harmony: "Street Arrows" show geometric paintings using the same shapes as the kind of street signage used in my hometown's public constructions. But geometry is also part of "The Perfect Pet," a dog sculpture built with piled wooden blocks. Dog-blocks, no fed, cleaned after, taking to the vet etc
NK: The "The Perfect Pet" sculpture reminds me of a larger scale building blocks kids play with.
RM: Yes. It's like kids playing with blocks. It's a primitive sculpture.
NK: Where are you from?
RM: I am from Rio De Janeiro, Brazil.
NK: How long have you lived in NY?
RM: I moved to New York in April of 2013, and into my new studio in July of the same year. I still have a studio in Rio with a team there.
NK: And what brings you to New York?
RM: I've been thinking about coming here for a long time, my work is so connected to the daily exercise of observing my surroundings that I always wanted to find how a different place would affect it. But the opportunity really materialized when my wife was transferred. She is a journalist, and now works as the New York correspondent for a newspaper in Rio.
NK: As a writer and a curator in the arts, wouldn't you say that Brazil has had a real renaissance in its art movement, and a big variety of artists from Assumed Vivid Astro Focus to Vik Muniz and Os Gemeos. In your opinion is there a difference between North or South American art?
RM: I think there are a lot of differences and similarities. Because art is a universal language; in the same way that the digital revolution has become a universal experience throughout the world. We are all bombarded by information all the time although we access it in different ways, and establish different connections with it. I'm just not sure if belonging to a region is still that much determinant to the connections we make. I believe much more in connections between people, and that is what I'm experiencing in New York.
So, it's not like there is a Renaissance going on, it's just that with more communication people are starting to look at Brazil a bit more.
Of course, that's a great thing, because we have a beautiful art history, with the São Paulo Biennale, the Concrete and Neoconcrete movements and a huge group of important artists that are so relevant today. People are really starting to look. Even now in NY you can see Marepe at Anton Kern gallery, Janaina Tschape at Tierney Gardarin, Sandra Cinto at Tanya Bonakdar, and Iran do Espirito Santo with a big sculpture at Central Park, with Public Art Fund, and the participation in the "White" exhibition at Dickenson by Adriana Varejão, Sergio Camargo, Neville D'almeida and Helio Oiticica. Next year will be an even stronger year, with shows by Lygia Clark at MoMA, Geraldo de Barros, Ana Maria Maiolino, Tunga, etc.
And It's not only about art, we have music, we have photos, we have architecture, films, good writers, and it's been like that for a few decades already, although there is a feeling of increased importance and more interaction with the rest of the world.
NK: I agree with you on the globalization of art and how the world, in all of its different forms it becomes super-flat. How do you think social media, and do you think social media plays a role in this? Social media like Facebook, Twitter, Instagram – do you think that helps an artist's career in being more globalized?
RM: Yes, I think so, because all of those things can help put your work out there. I think it's good for artists to have new ways to communicate and interact with the public, since I think all art is about communication.
But, at the same time, I think that there will always be a need to touch and experience the work that the virtual, the apps and social media will never substitute.
NK: What I love about your sculptures, especially the ones that you just talked about, the ones that you have to touch and experience. When you go to museums or galleries, there is always a thin white line that says "don't go beyond this point" and alarm will go off, and there is a security guard, and I love the fact that one can go up to your sculptures and touch them, they have all this kinetic energy about them. Can you tell me a little bit about that experience, and why you wanted that experience?
RM: This work is about that, it's about the distance between the public and the artwork. I'm against that "don't touch the artwork" thing. In my exhibitions I put "please, do touch", understand? It's not just about interaction but an invitation to think about the movement. It's like saying: - please feel, if it's heavy, light, etc. In my work I like to deal with opposites that exist in our life. And one of the most defining opposites in art is the one that separates the art and the public. I don't want my work to be closed to the audience; these workings are about getting these polarities much closer.
NK: Your sculptures, to my eye, reference architecture. Do you have an architecture degree or are you interested in architecture?
RM: I studied architecture for a few years but I am not an architect. Just for two years. I do love mathematics though, specially geometry, and its capacity to study and generate forms. My father is a mathematician.
NK: Are you with the gallery in NY?
RM: No, not yet.
NK: If somebody were interested in your work, what would be the best way to reach you?
RM: My e-mail: HYPERLINK "mailto:raoul@raoulmourao.com" raoul@raoulmourao.com
NK: And can you tell us about any upcoming shows that you have in maybe 2013 or 2014?
RM: All my new projects are for next year. I have two group exhibitions, one in Lisbon, at Fundação Calouste Gulbekian, the other at the Vancouver Biannual, both with big kinetic sculptures. In February I'll have a solo exhibition at Nara Roesler gallery, in São Paulo, with a larger amount of works, and a much more complex presentation of my process in all medias. I'm also preparing a book that will mirror the show and vice versa.
NK: Do you fabricate your own pieces or do you send them off to a factory to get fabricated?
RM: Part of the work is made at Rio, part is made here in New York. In Rio I have a team in house that do most of the work, but in larger scale projects, like the ones using scaffolding, I usually use companies accustomed to work with big events. I have also worked with large steel companies. It all depends on the project. I also do videos, and photos in a much more agile away, where I don't depend on anyone. I once followed a dog for 24 hours for a project called "Cão Leão," where I needed to be as independent as he was, at least for a day.
NK: What are some words that you think would describe your work?
RM: Freedom.
NK: Freedom is a beautiful word.
For more on artist go to: