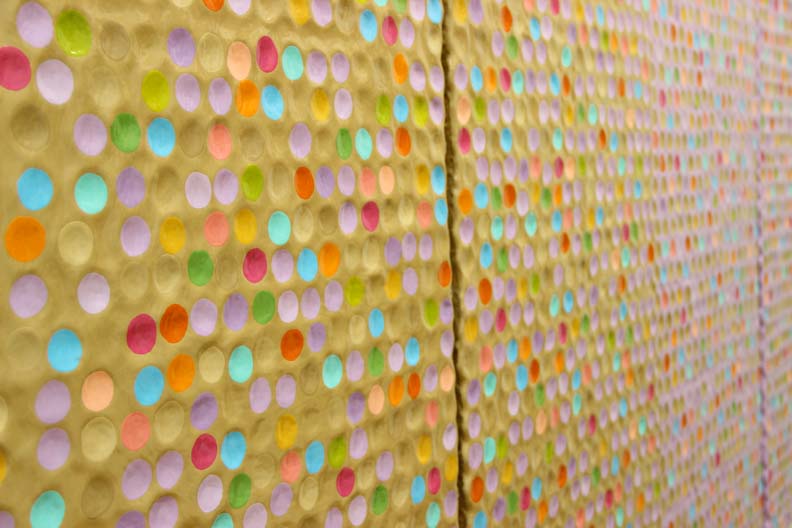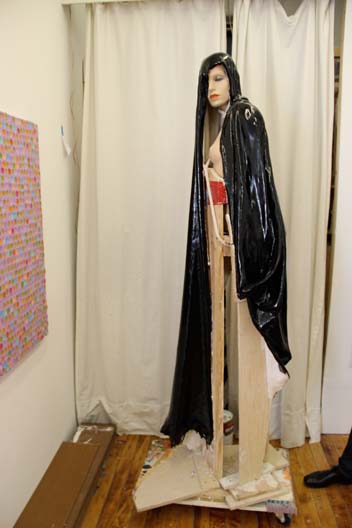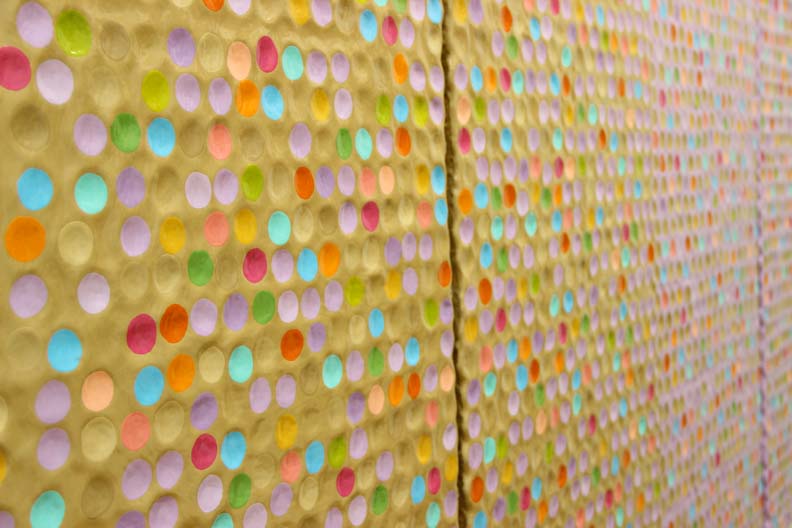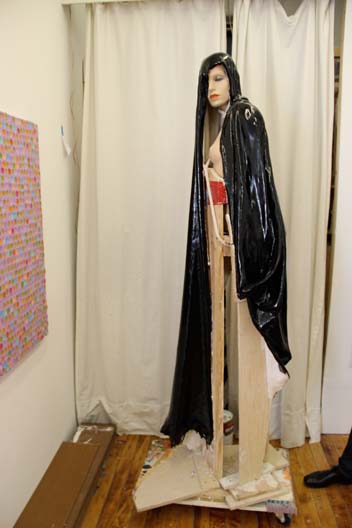 NATALIE KATES: Is there a common theme across all your artworks and, if yes, what is it?
ROBERT MELEE: High gloss, psychological abstraction.
NK: Your body of work consists of video, photography, sculpture and performance art. Do you prefer one medium in particular?
RM: I do not; they fuel each other.
NK: Does pop culture influence your art?
RB: Yes.
NK: What is the technique you use when making your fiberglass painted drapes?
RM: I began making the curtain/drape pieces in the mid-'90s. Originally it was important to use classic materials—canvas dipped in plaster. Due to plaster's short life span, I switched over to fiberglass. There is a water-based resin (aqua-resin) which mixes similar to plaster and is non toxic, but lasts four times longer than plaster before it hardens. This additional time has given me great flexibility to mold and drape the fiberglass over objects.
NK: How do you choose the objects to marbleize?
RM: When I was in SVA in the '80s, my first resolved works were paintings on canvas; they were abstract striped paintings. I was interested in creating an intensely neurotic energy through the relationship of color and space. Realizing that a 2D surface was too limiting for me and that neurosis begins during early development at home, I began assembling and painting banal household objects, such as tea kettles, coffee pots, stoves and refrigerators doors. The striped paintings I previously made looked as if I poured paint because the stripes were so spontaneous and irregular. Inspired by Linda Benglis' work, I began pouring paint on these objects, instead of applying paint with a brush. These poured paint stripes of different colors bled into each other resulting in what seemed like a novice attempt at marbleizing. Instead of a romantic and beautiful pattern, this surface was plastic, somewhat grotesque and ridiculous. I was hooked! I have been "marbleizing" ever since.
NK: What is the show you are most proud of and why?
RM: My next show, because the work must improve and be challenging. Else, I will not show it.
NK: Are you a disciplined artist who spends everyday at his studio or does your creativity come in spurts?
RM: Work is by no means limited to being in the studio; we are never closed for business.
NK: Do you listen to music when creating art and, if yes, what are some of your favorite songs/bands?
RM: In the studio it's NPR, song shuffle, or WFMU
NK: Do you have a favorite contemporary artist?
RM: Perhaps.
NK: If you could be any super hero who would you be and why?
RM: I'm not interested in super heroes. I live my life, everyday, to the fullest.
NK: What's your favorite cocktail?
RM: Scotch
NK: What are some words you would use to describe your work?
RM: Brave, baloneyism, contrasting, plastic, organic, camp, fearless, humorous, gay, surface, honest, fake.