Artist Statement: SWOON's worlds are often populated by realistically rendered-- and evocatively cut-out-- street people, often her friends and family. Riding bikes, talking on a stoop, going grocery shopping-- these people traverse a cityscape of her own unique invention. Bridges, fire escapes, water towers and street signs create crisscrossing shadows and spaces through which her figures move. Inspired by both art historical and folk sources, ranging from German Expressionist wood block prints to Indonesian shadow puppets, SWOON is a master of using cut paper to play with positive and negative space in a conceptually driven exploration of the experience of the streets.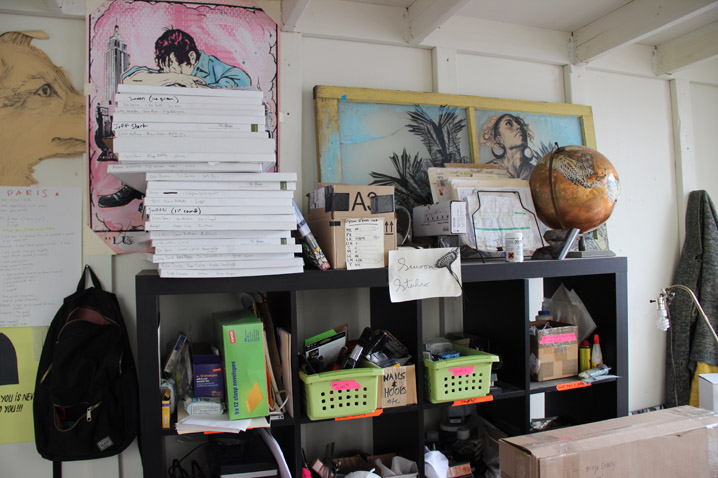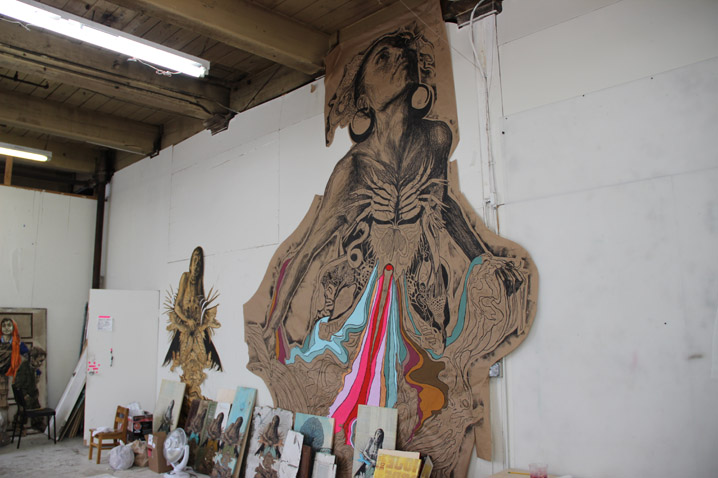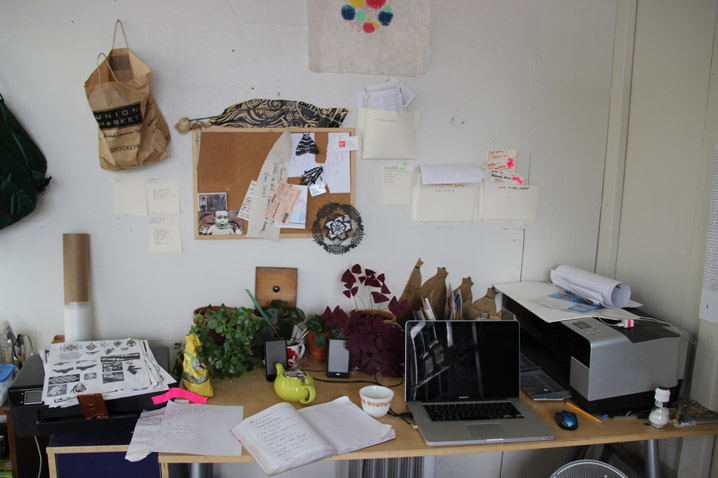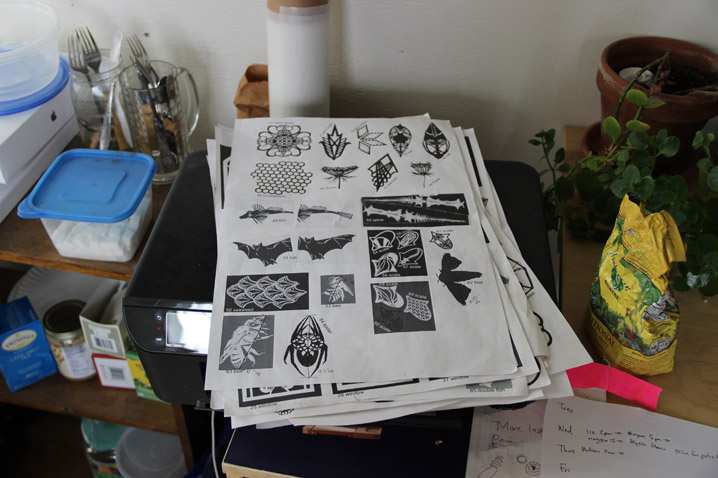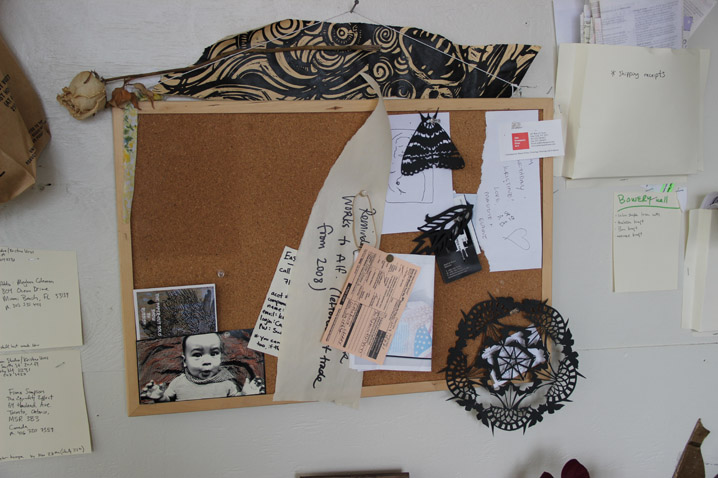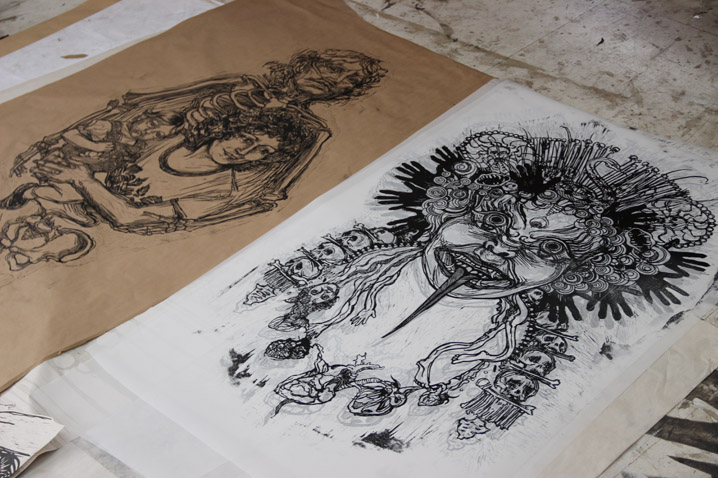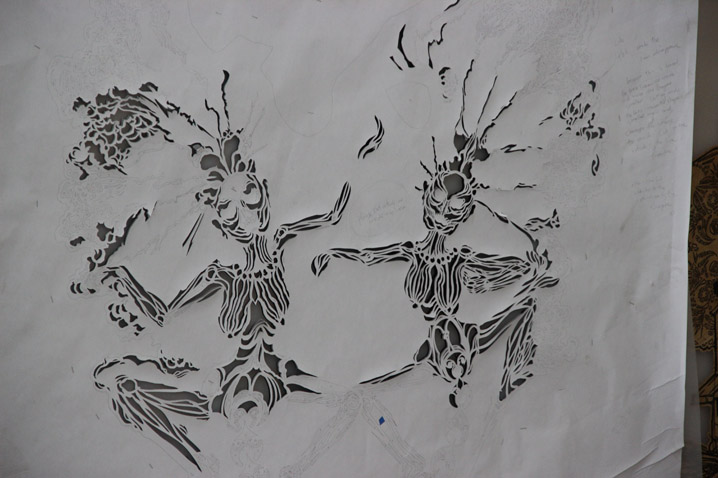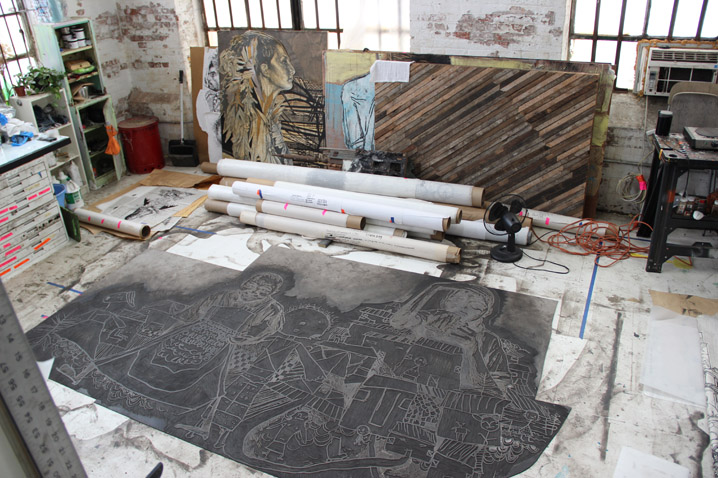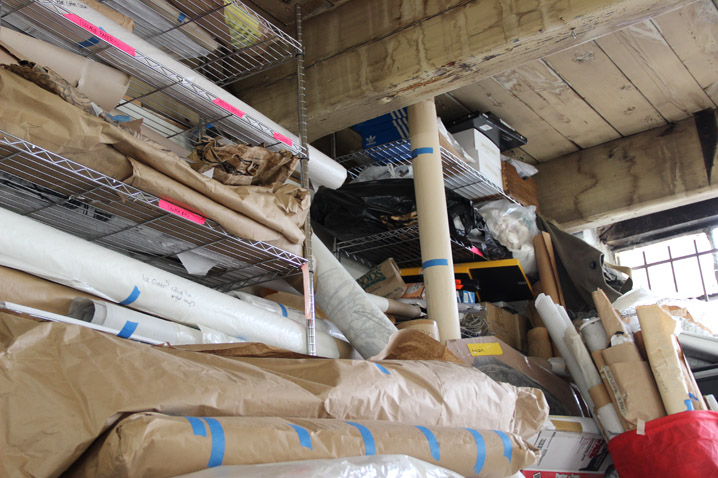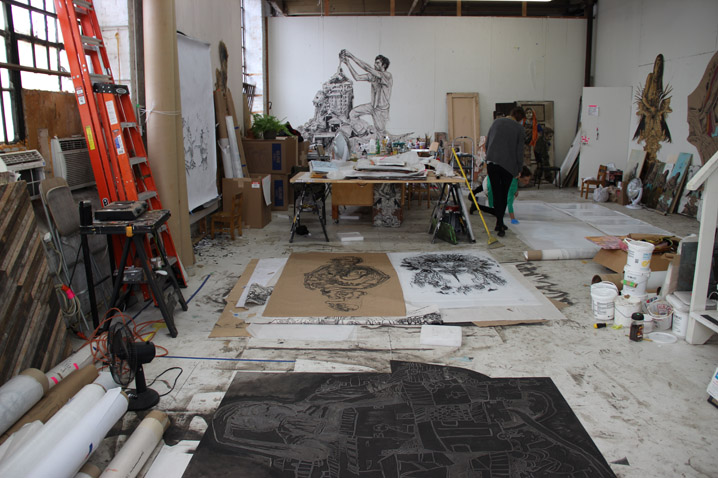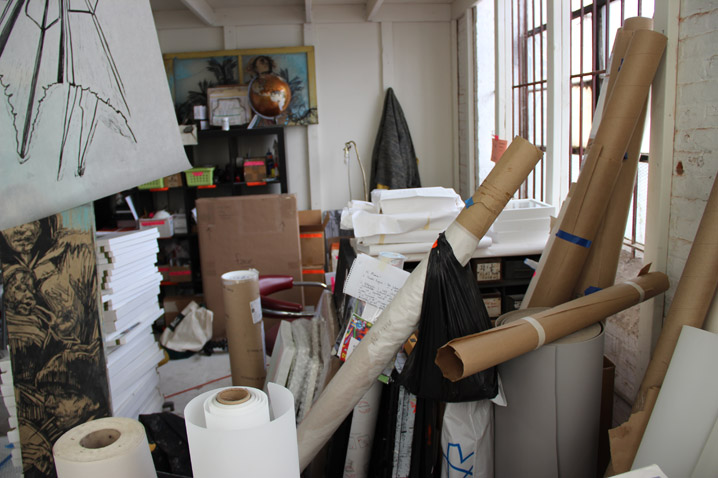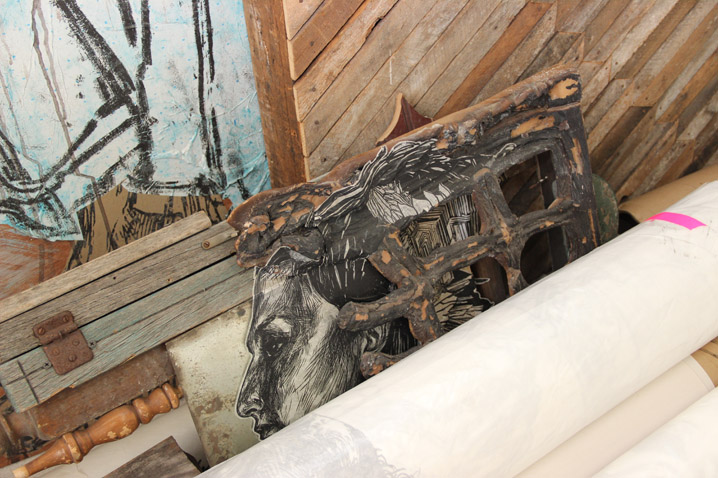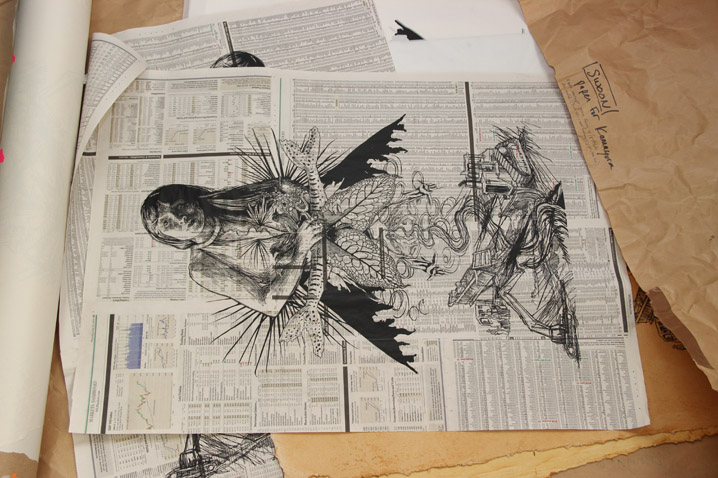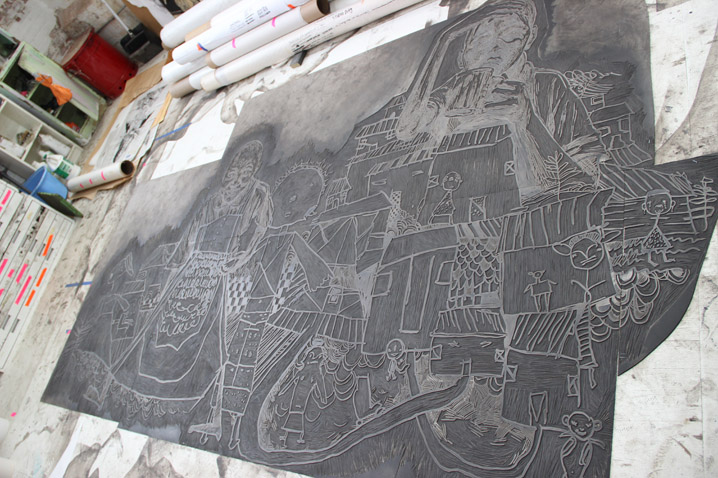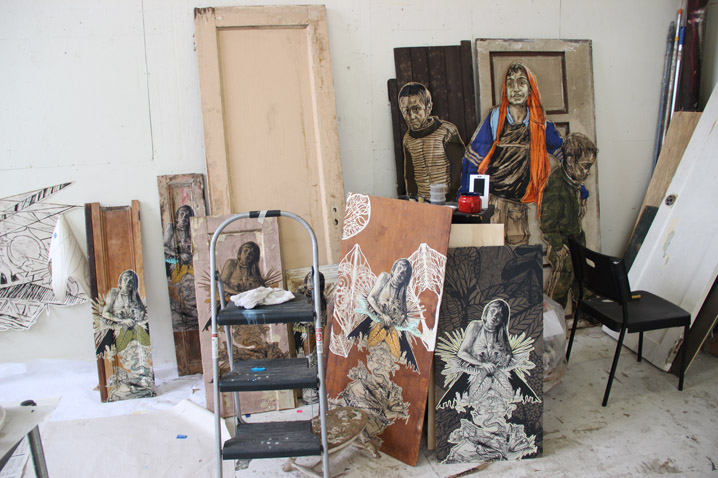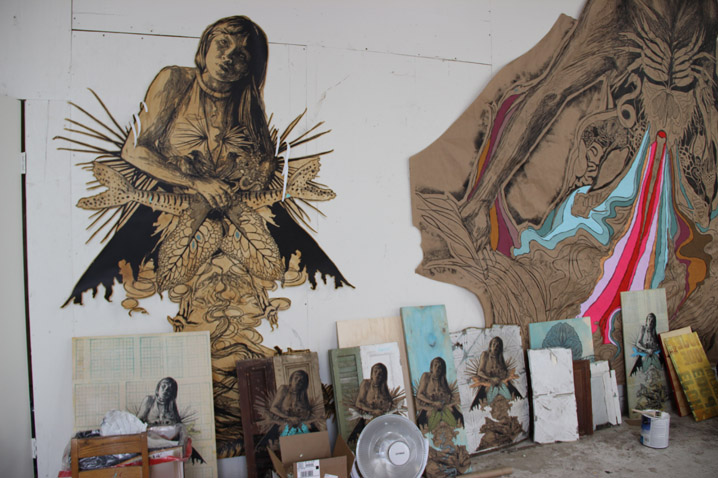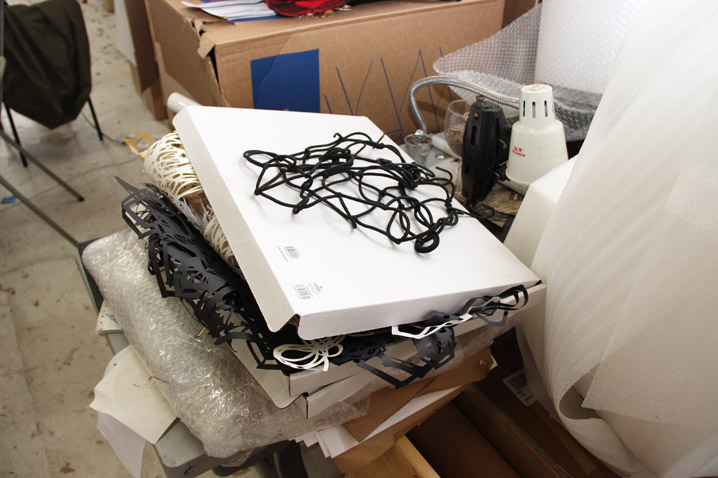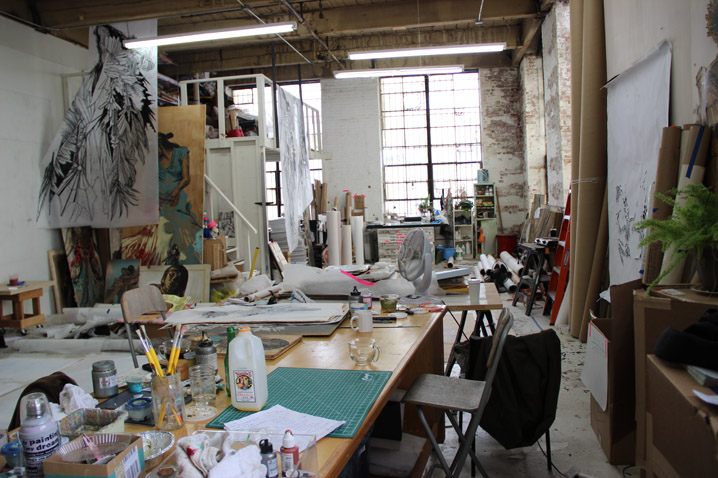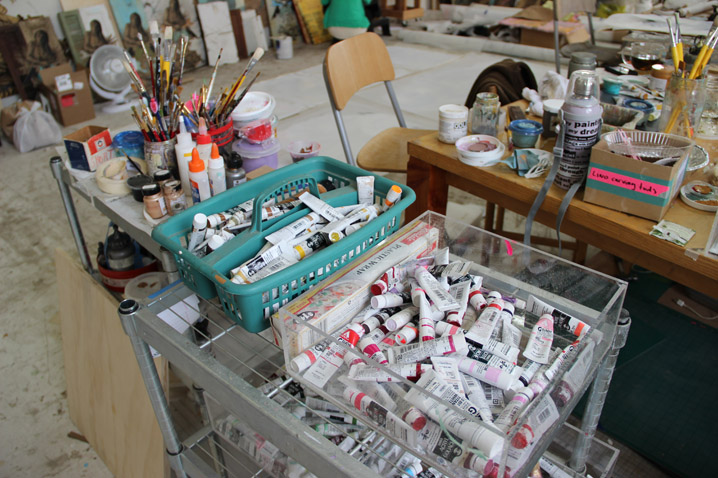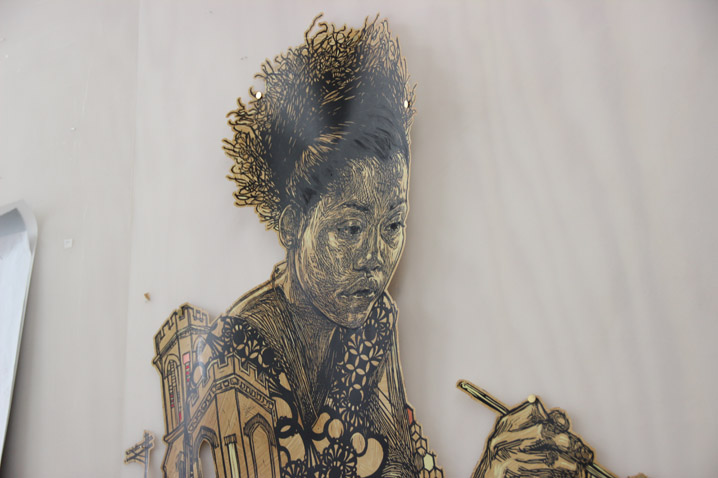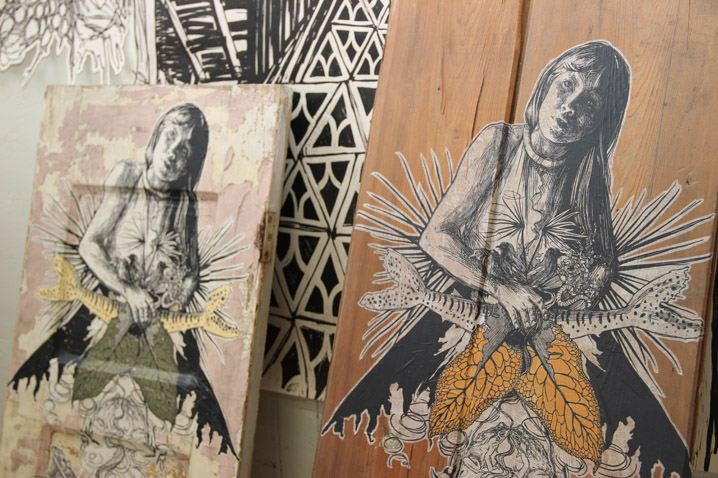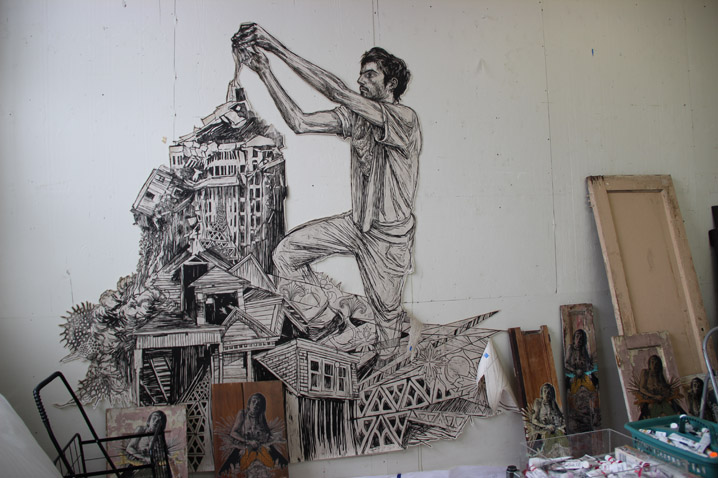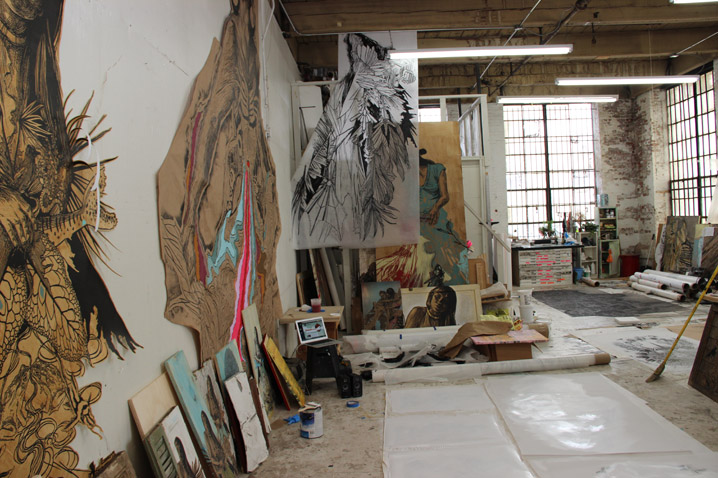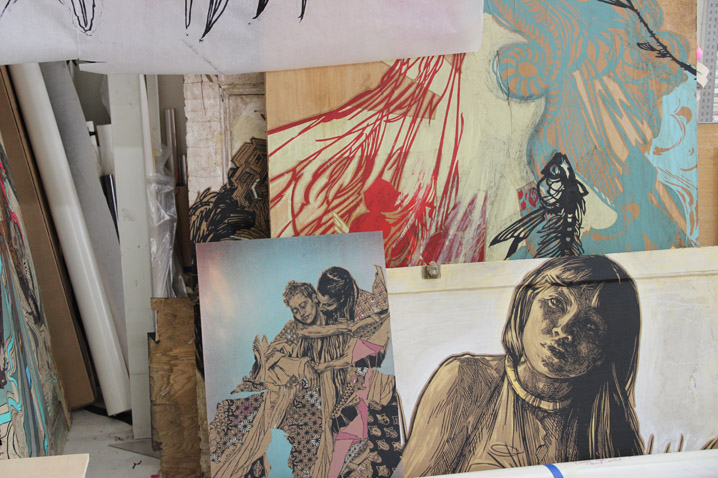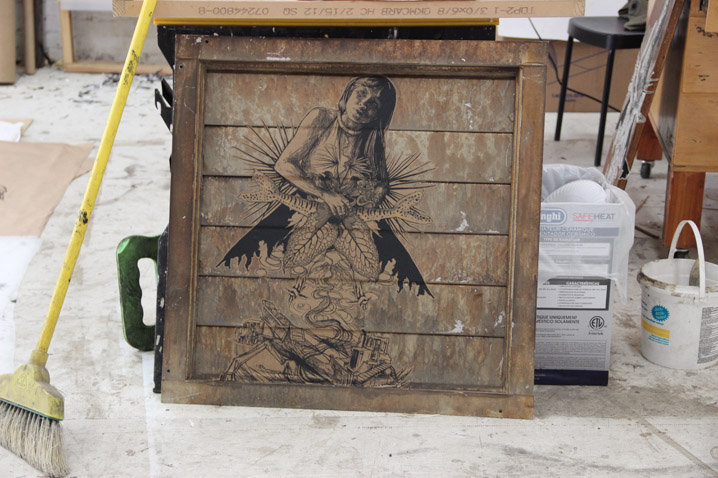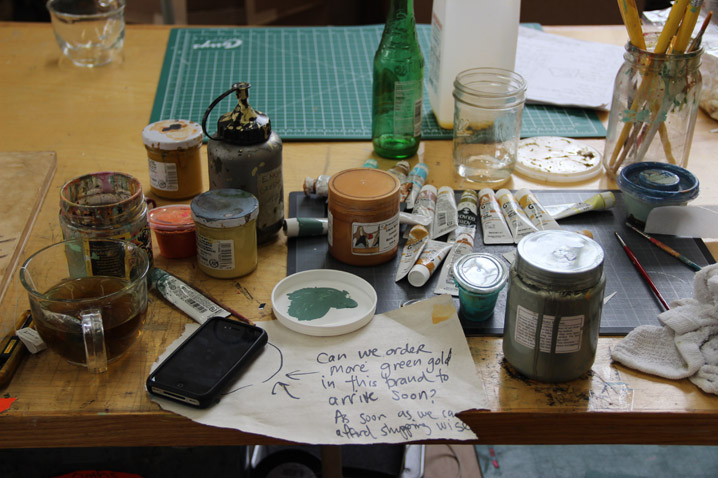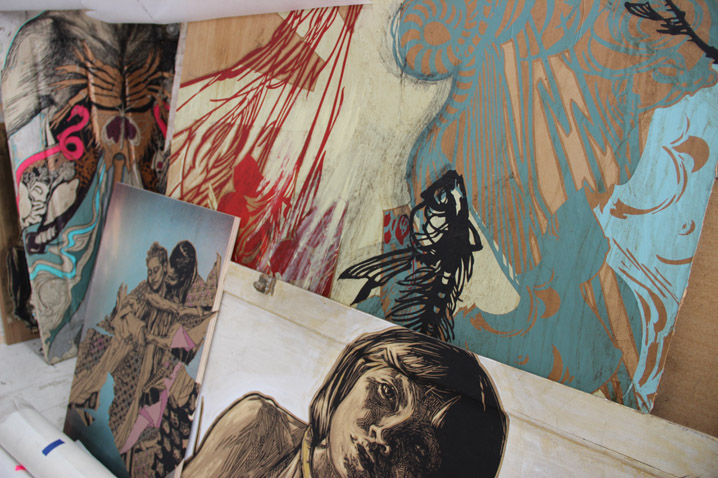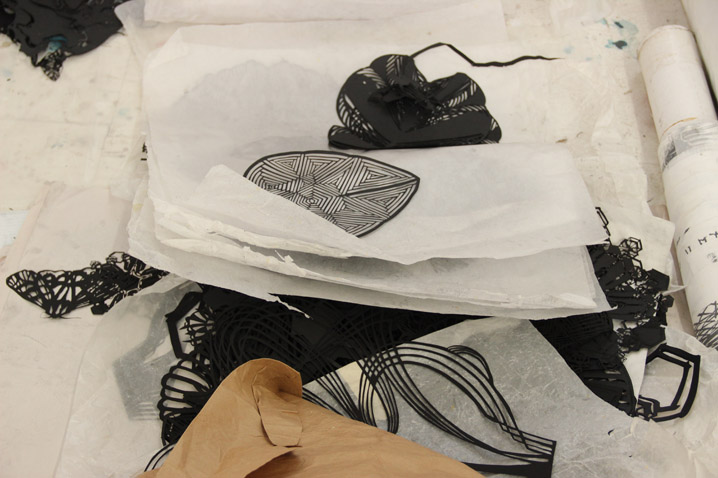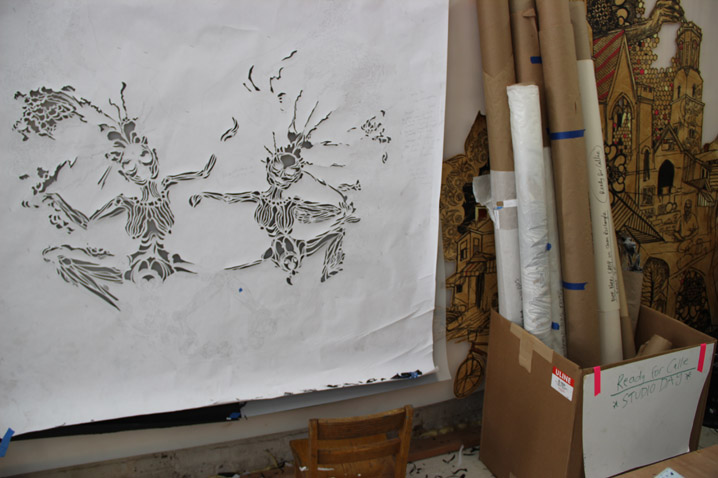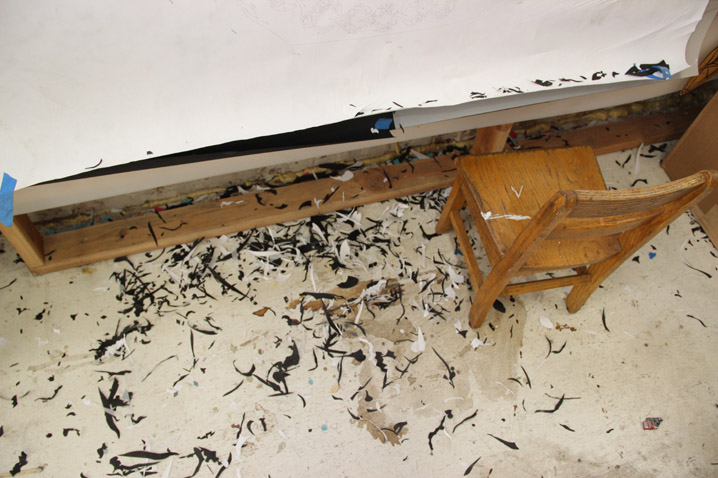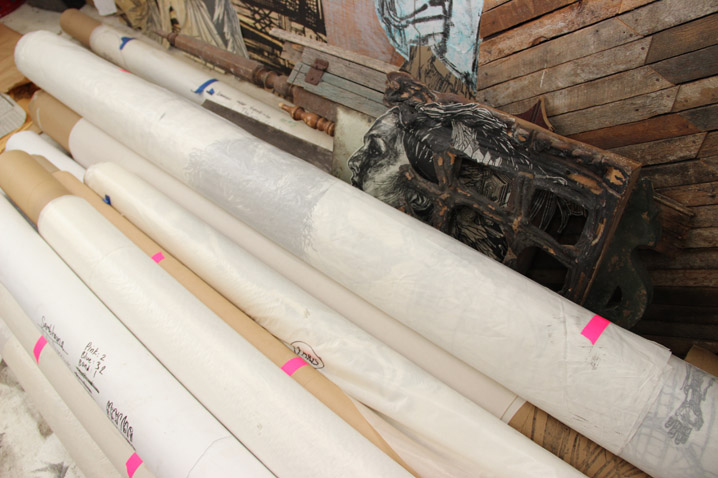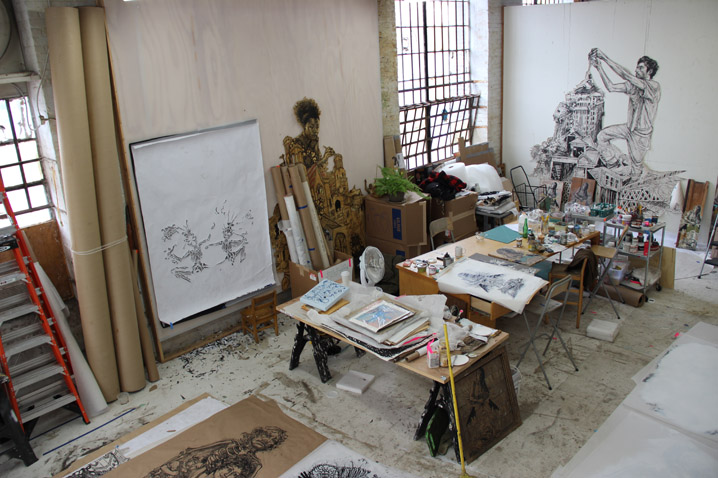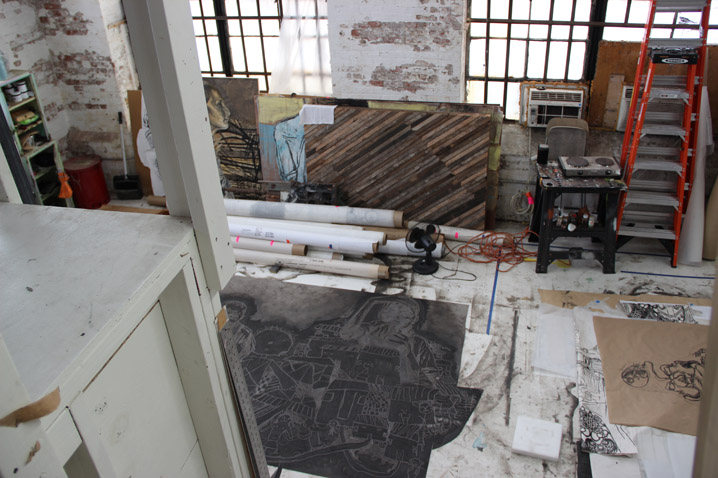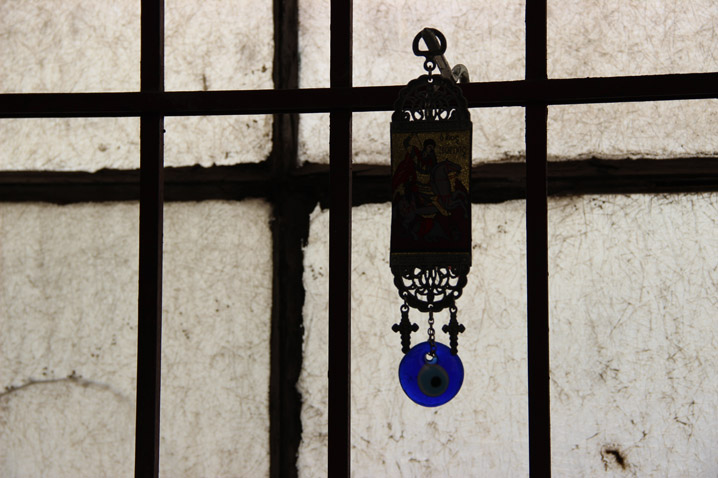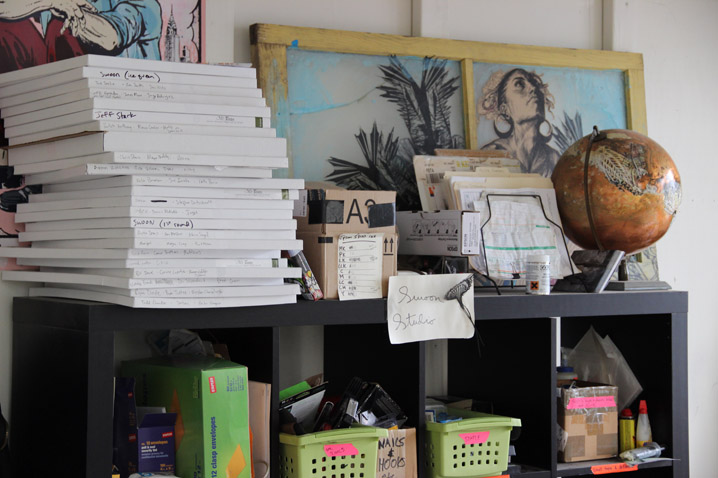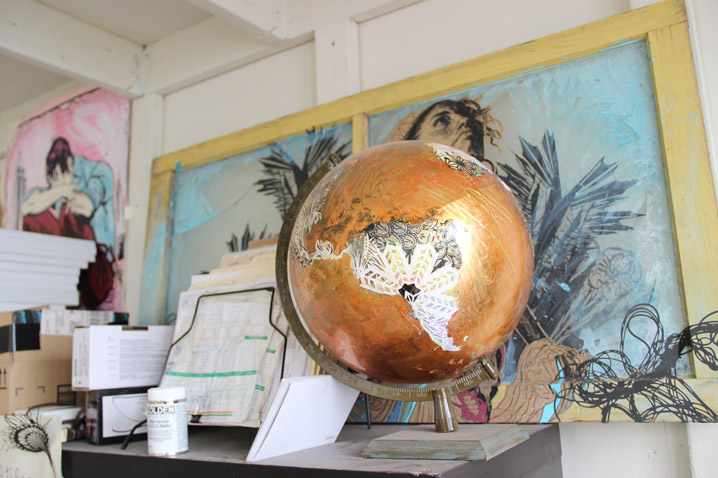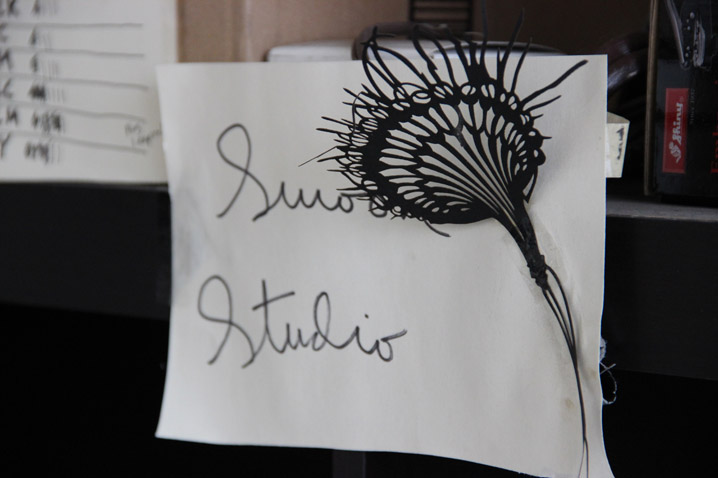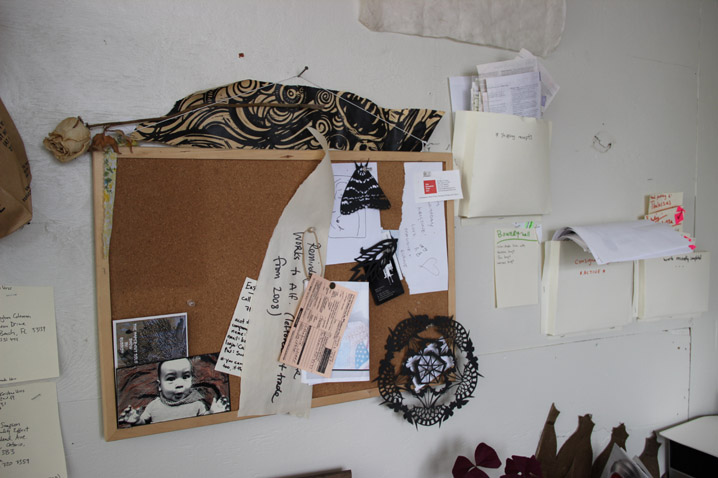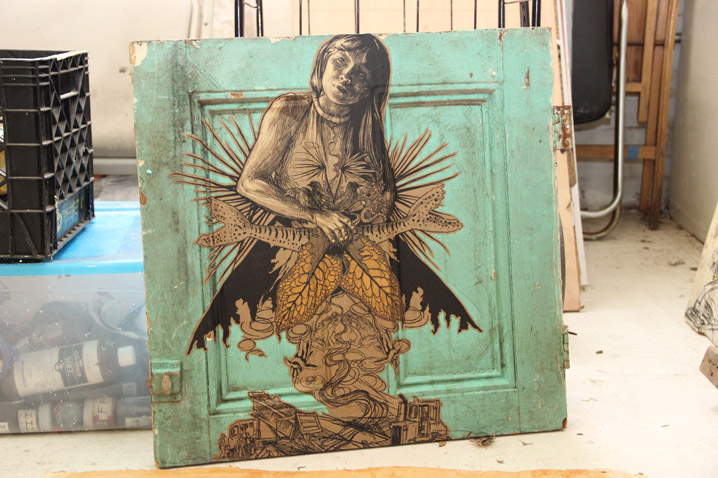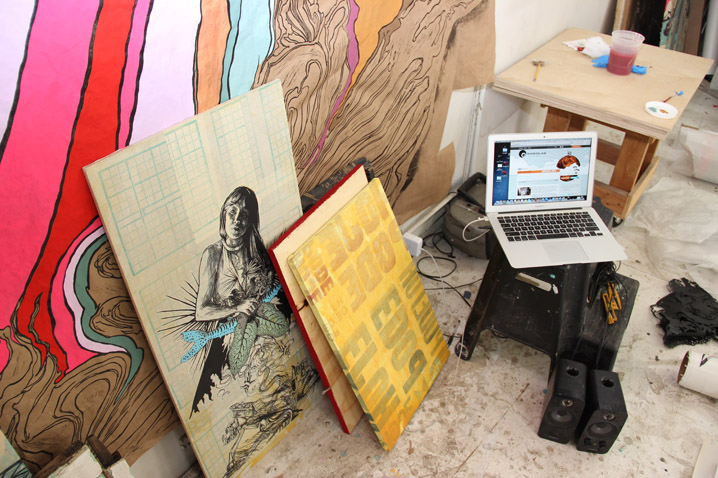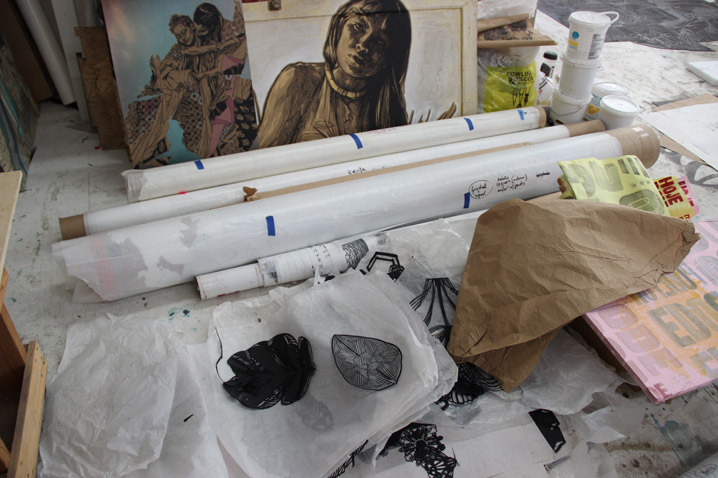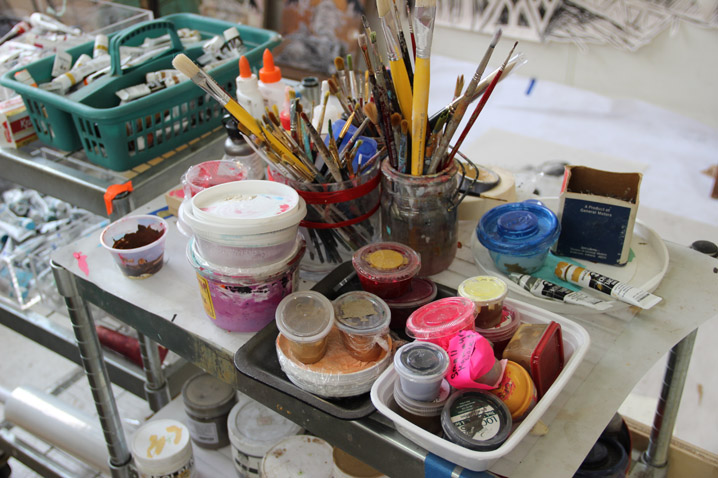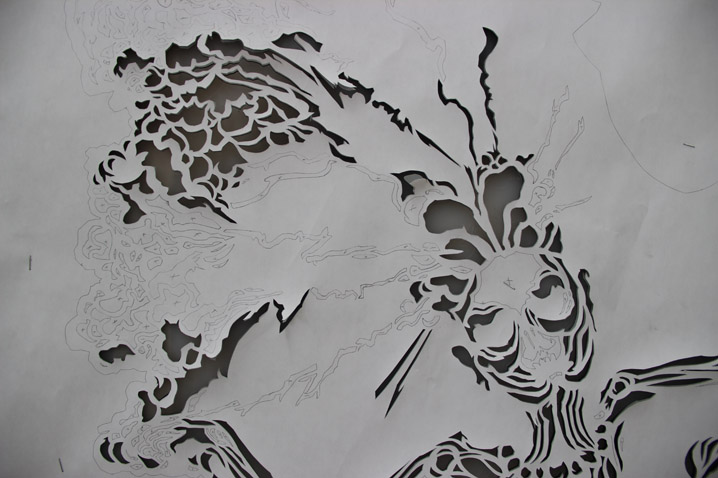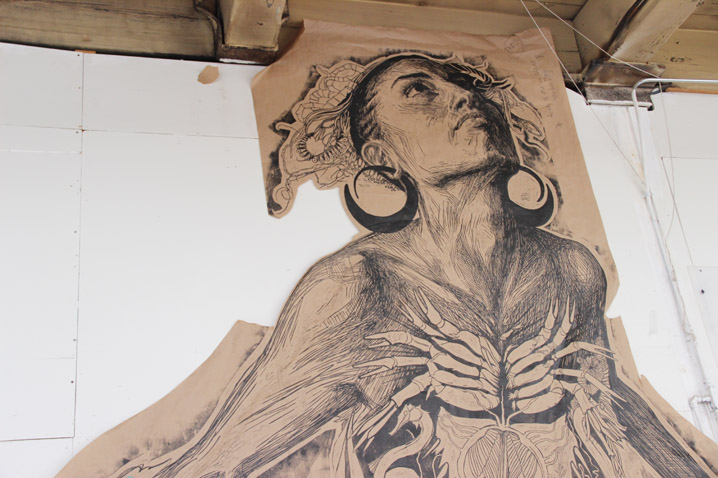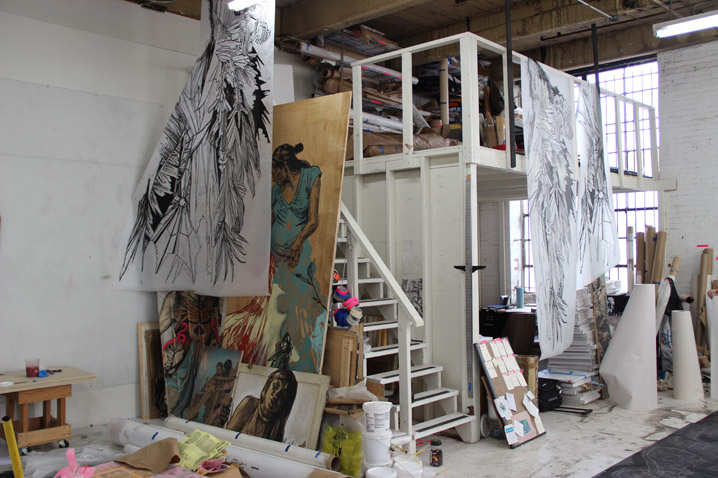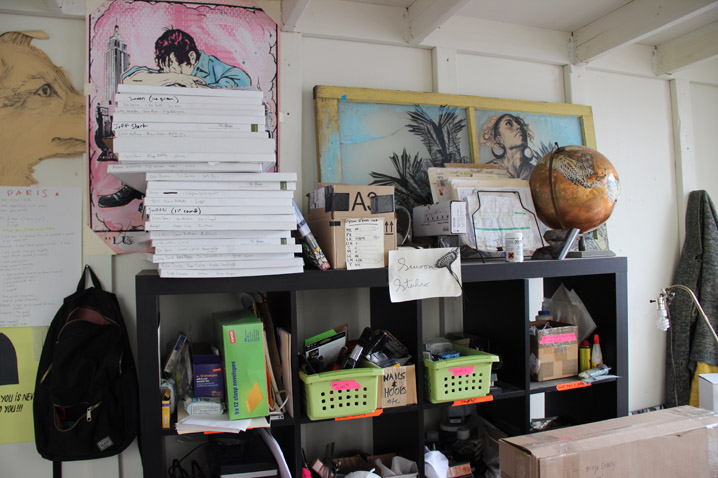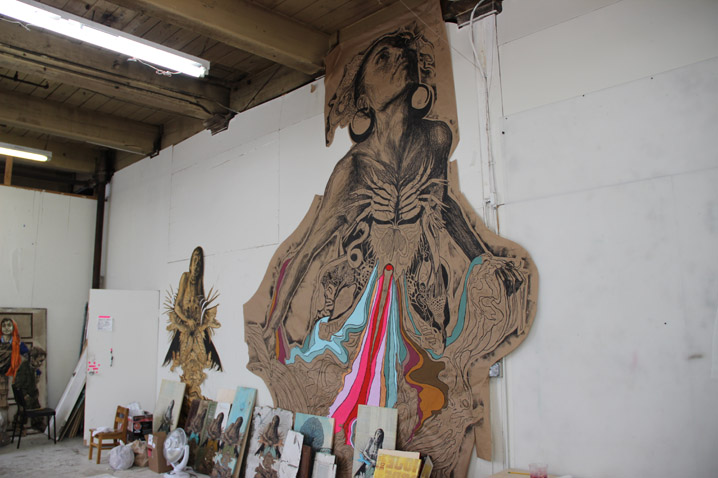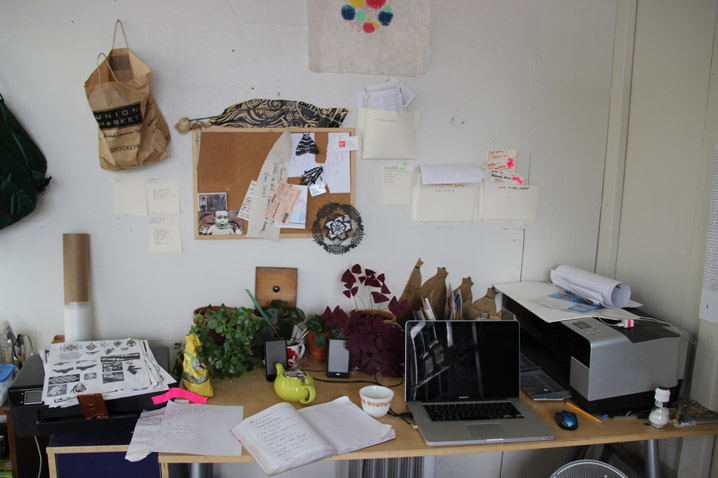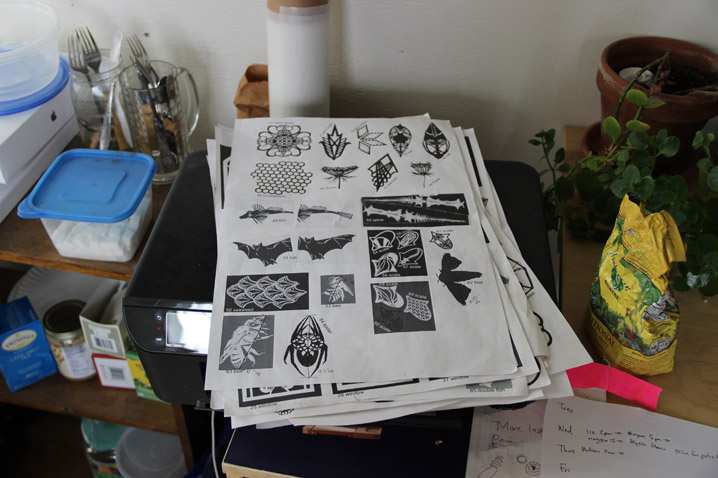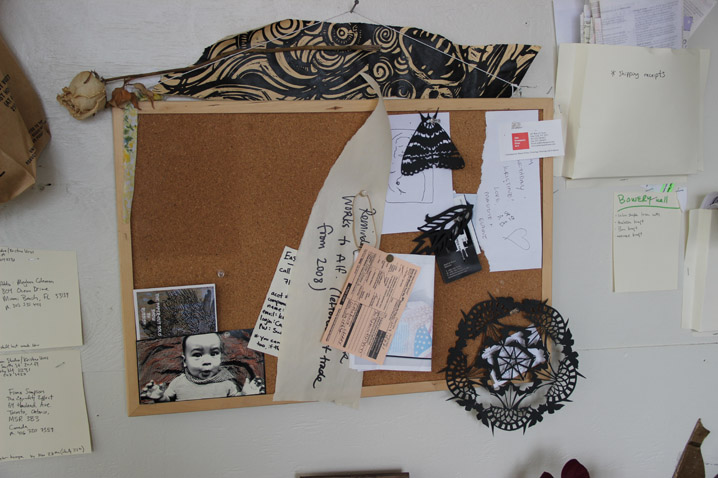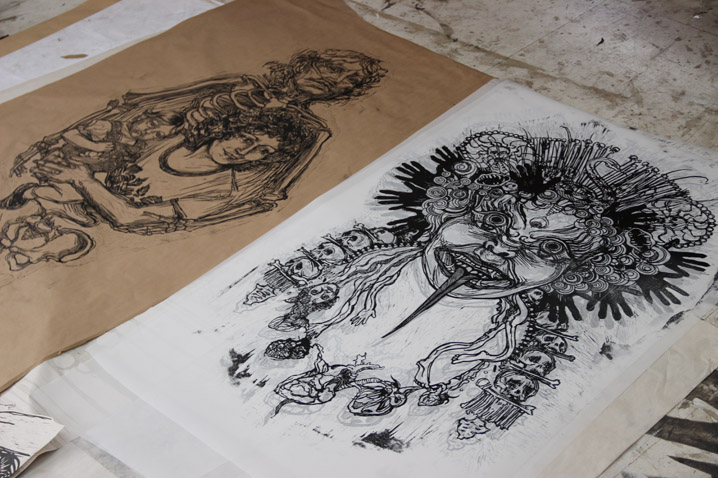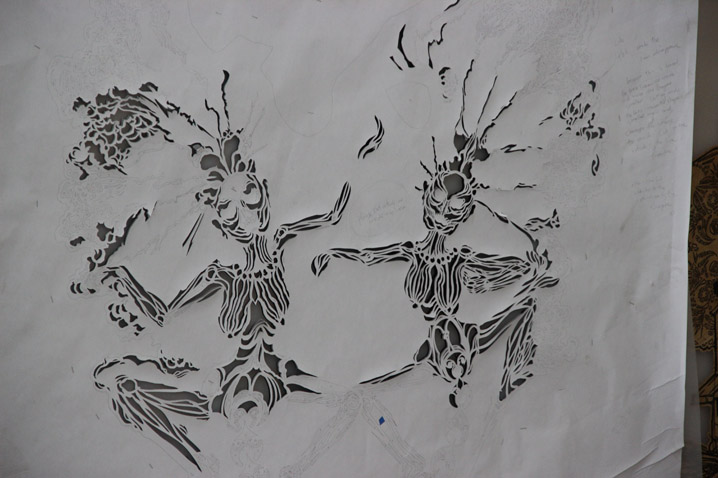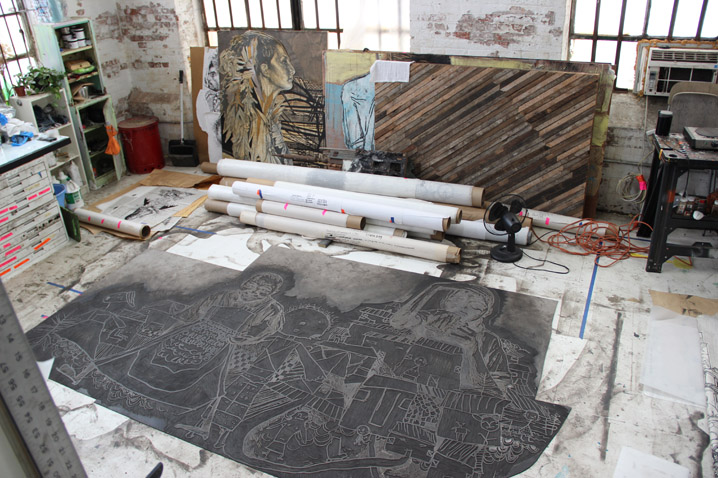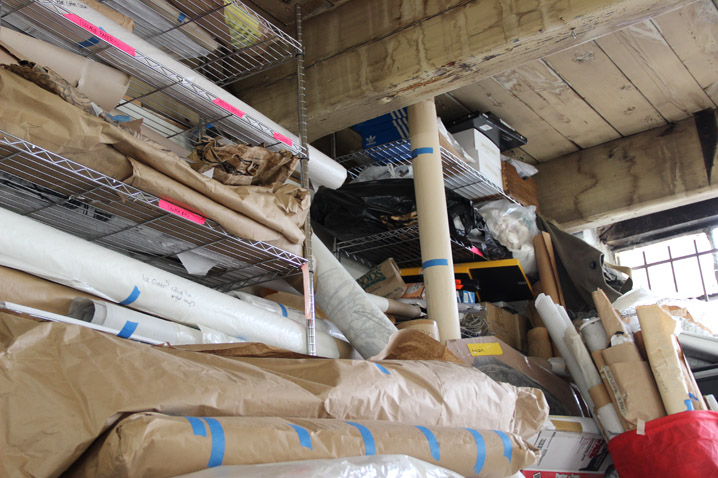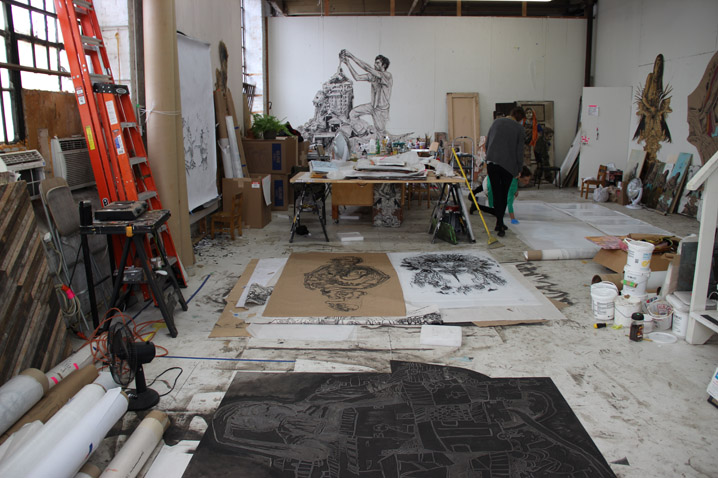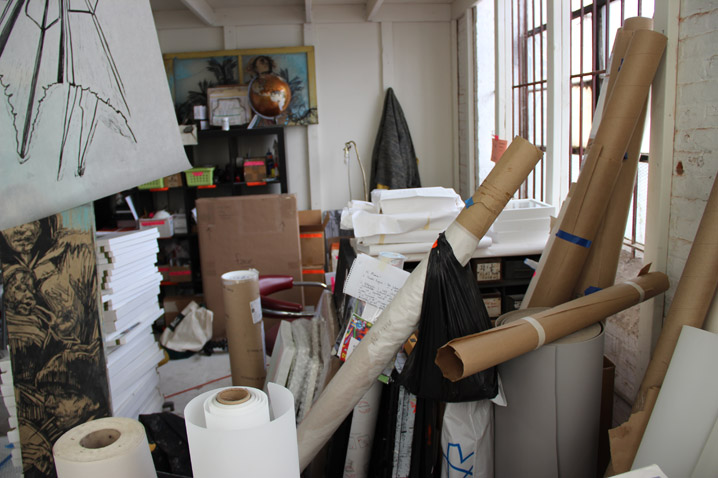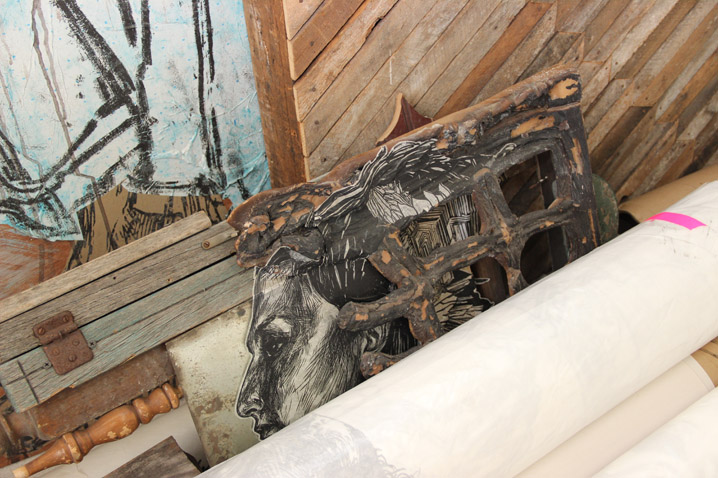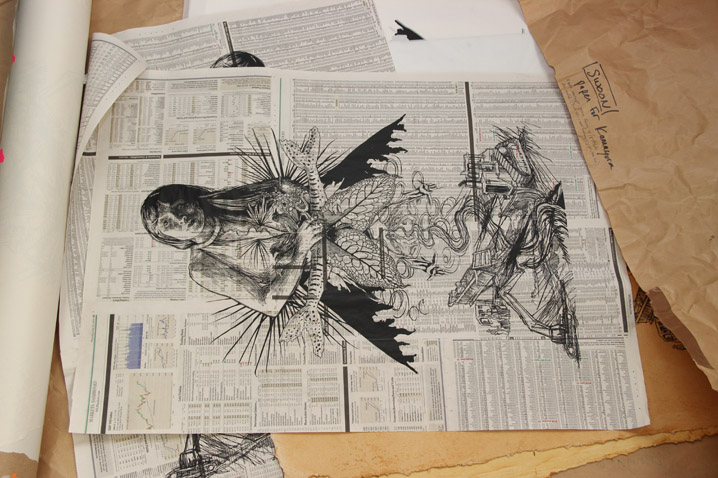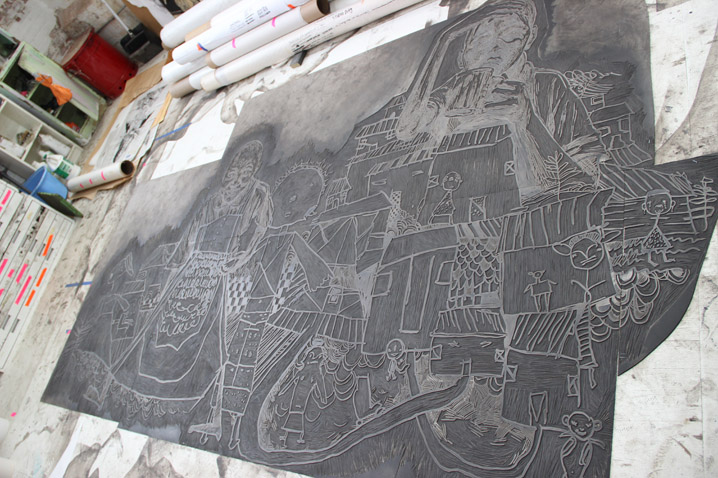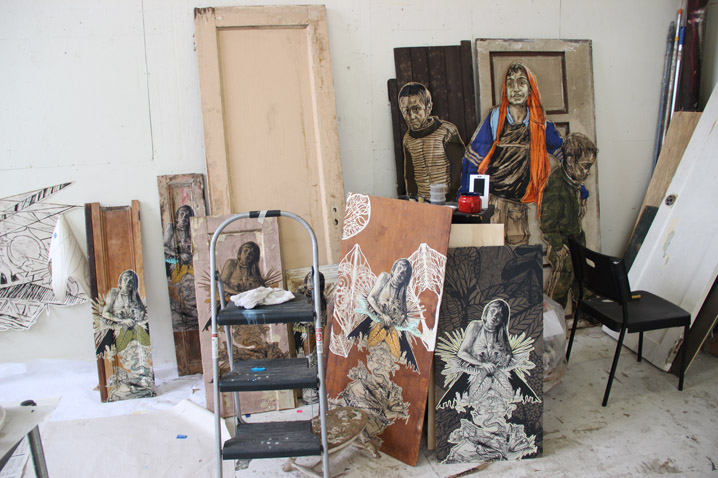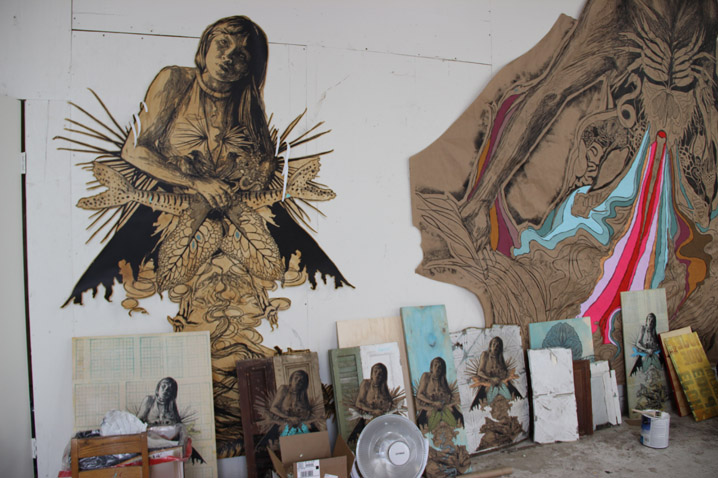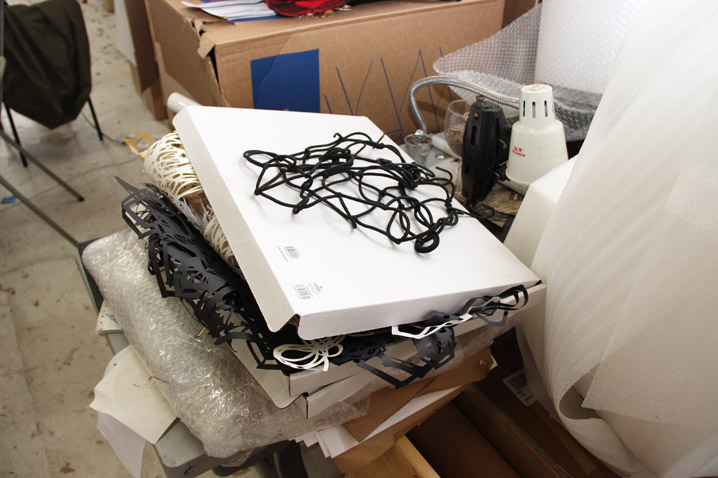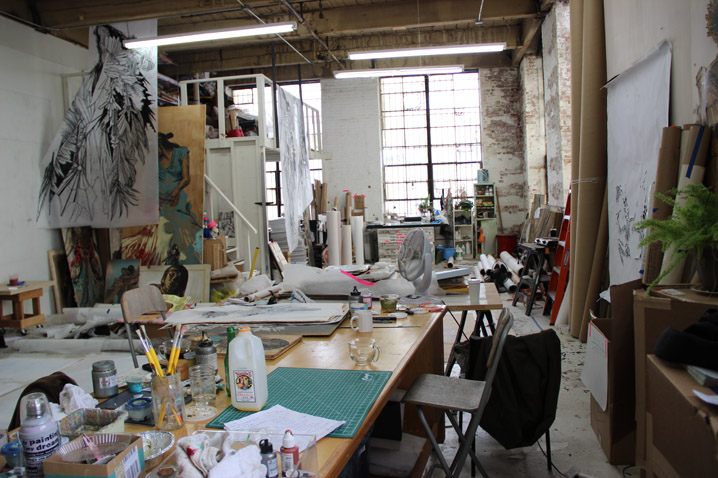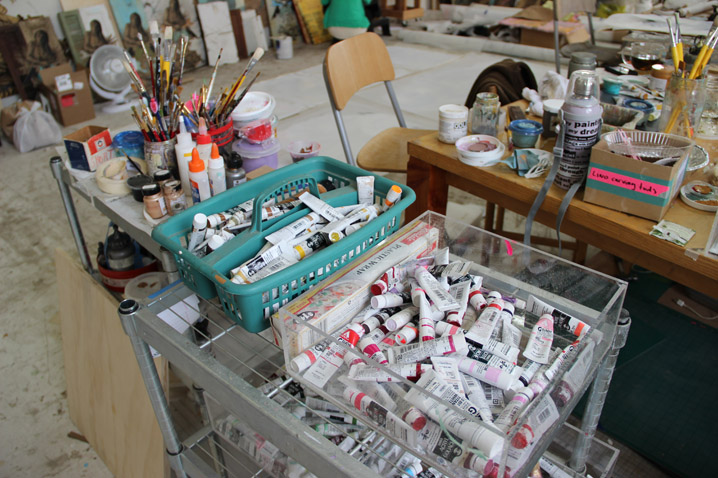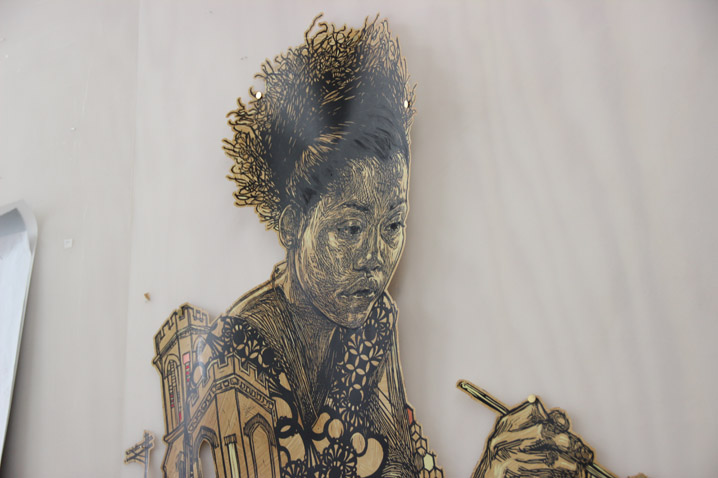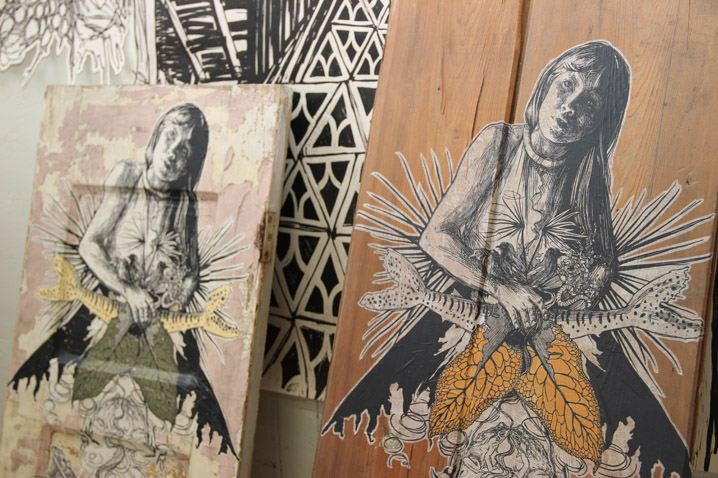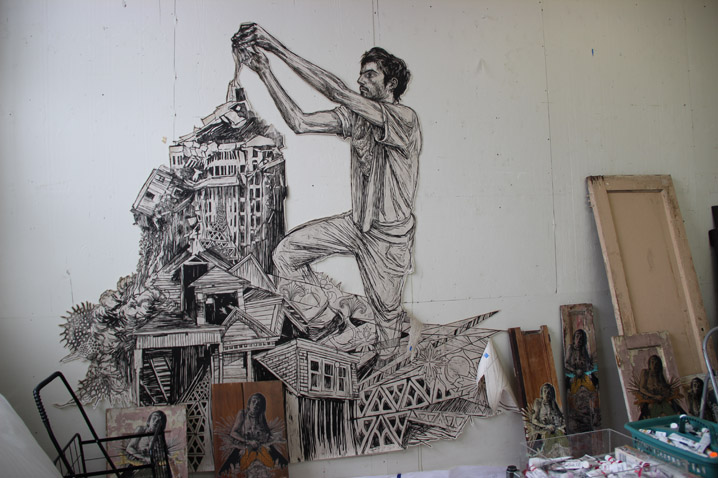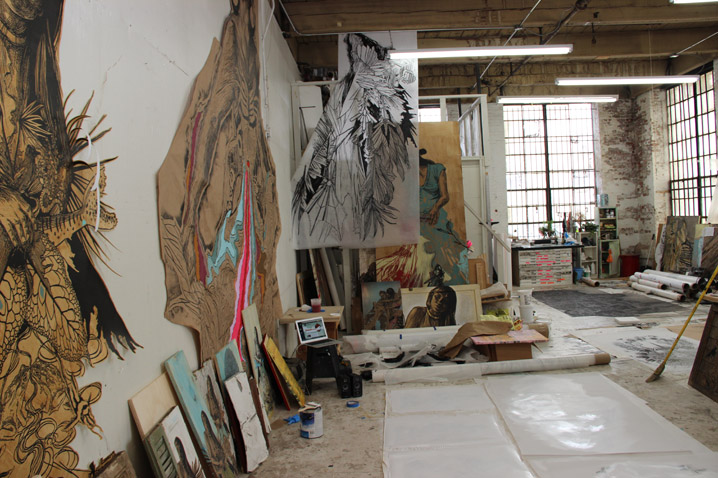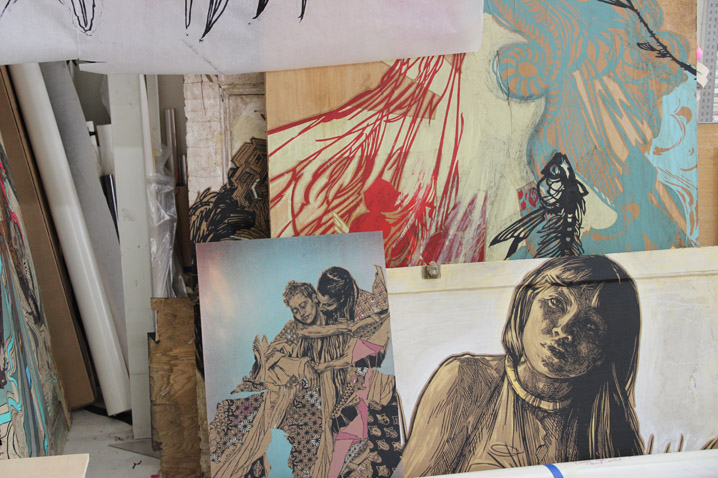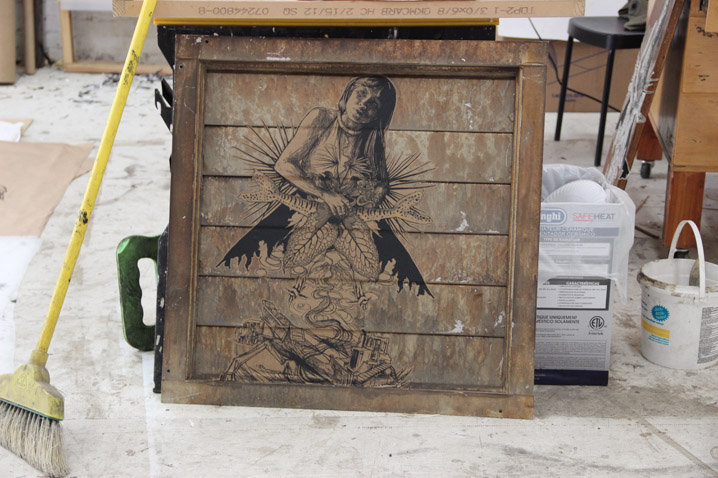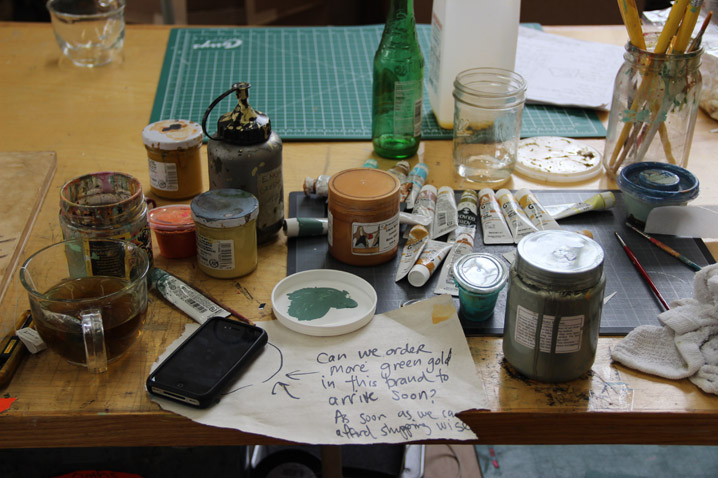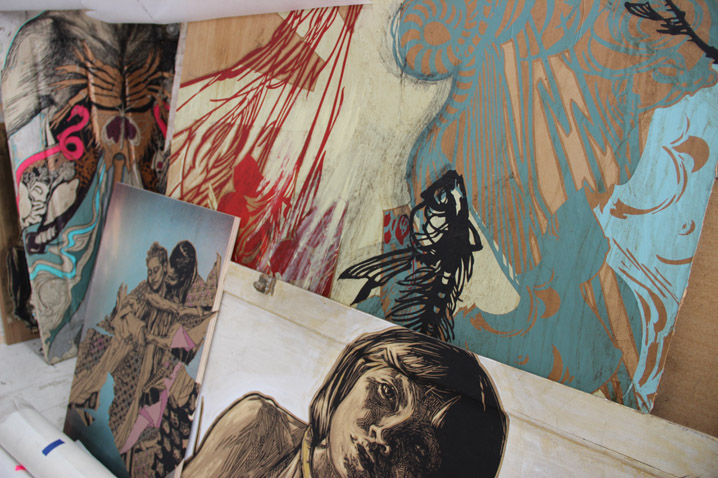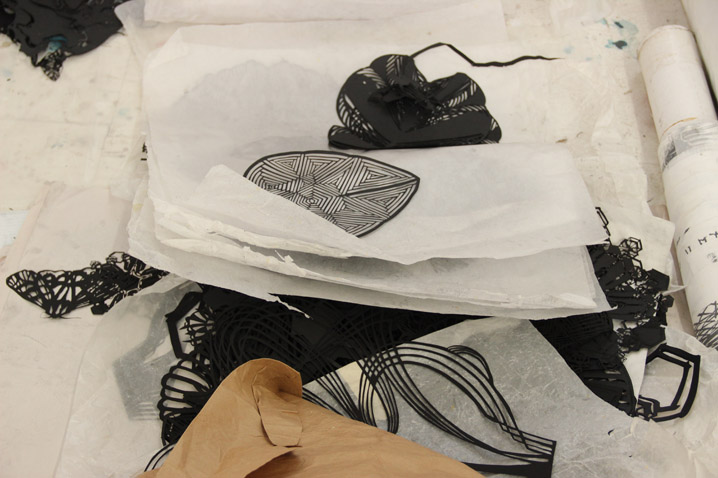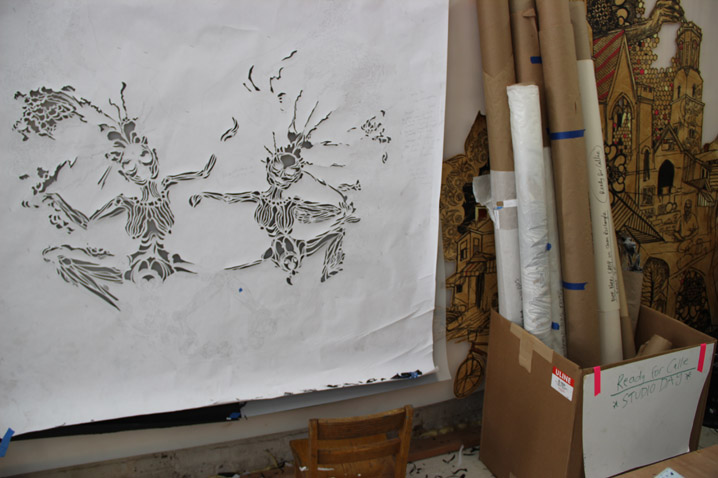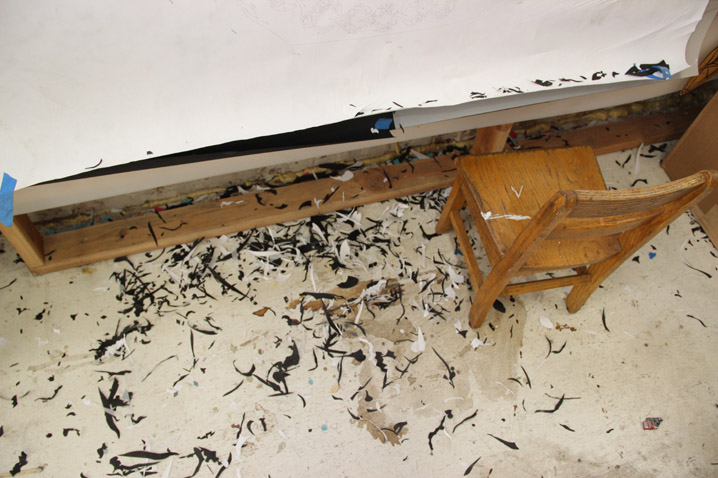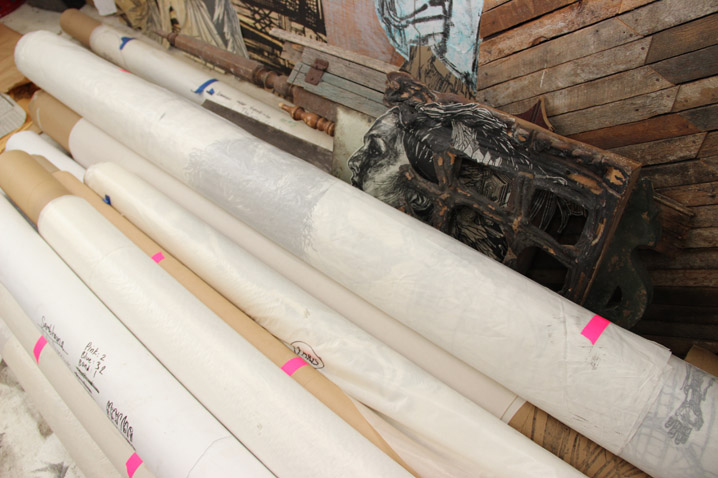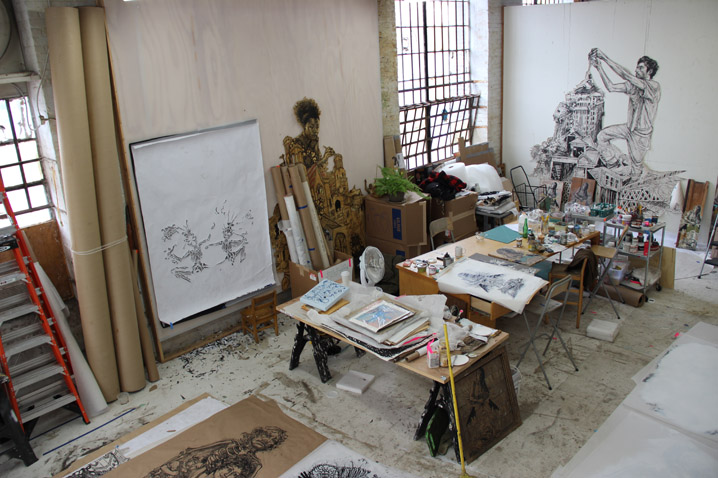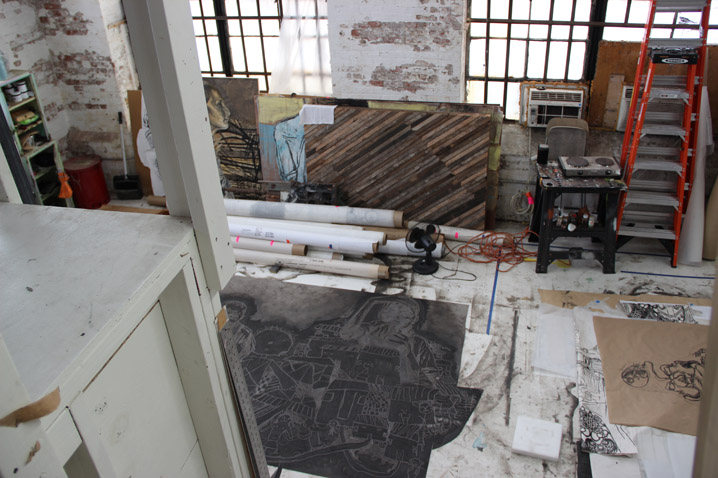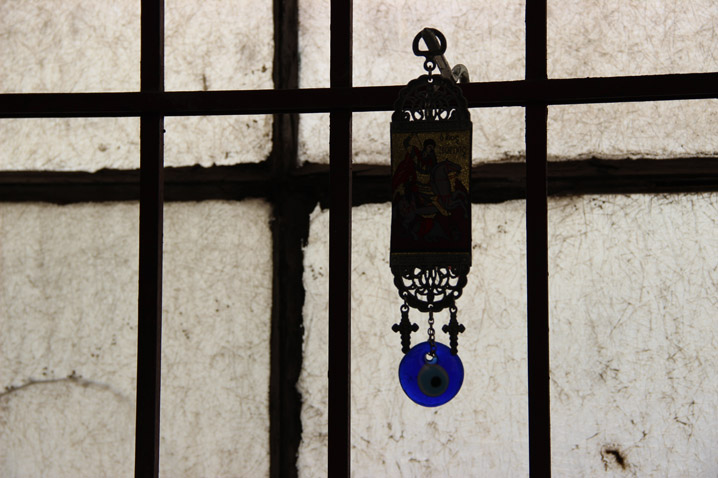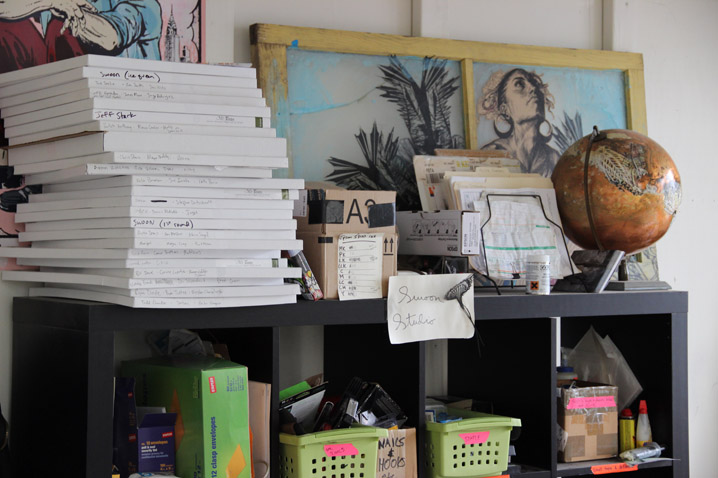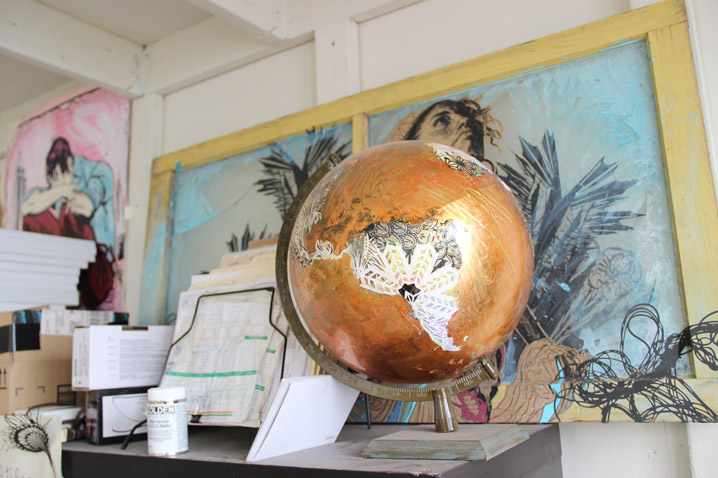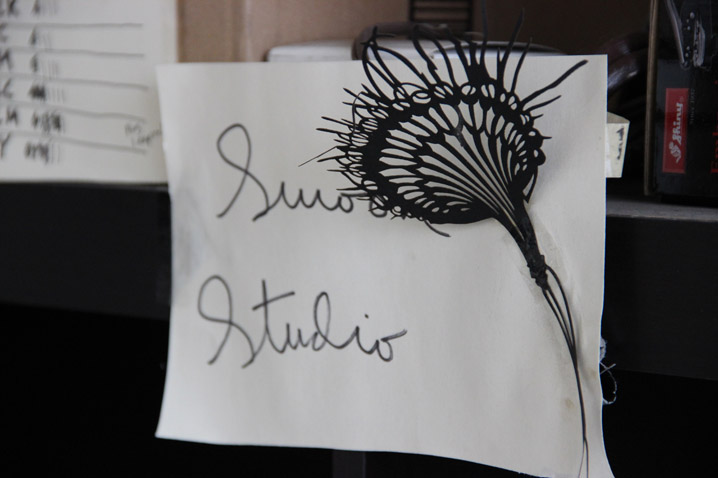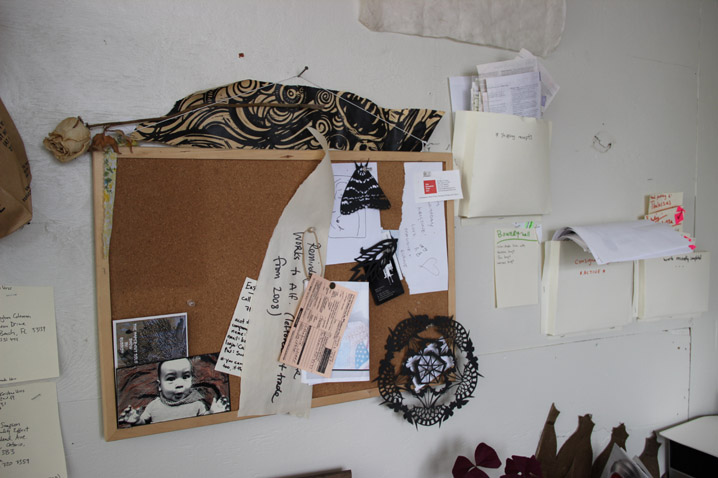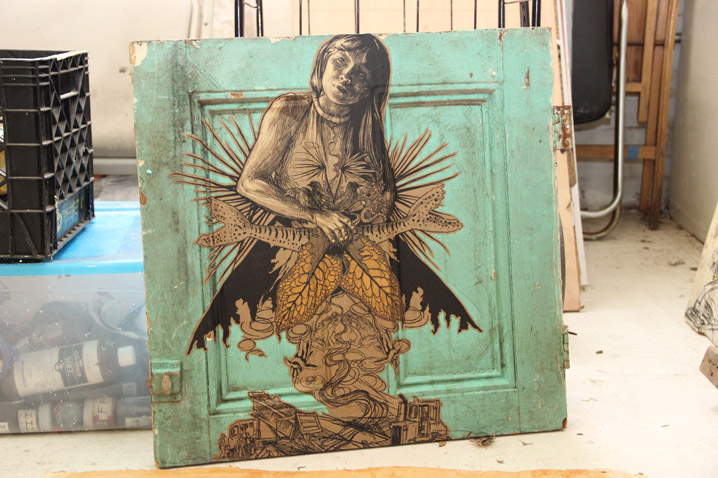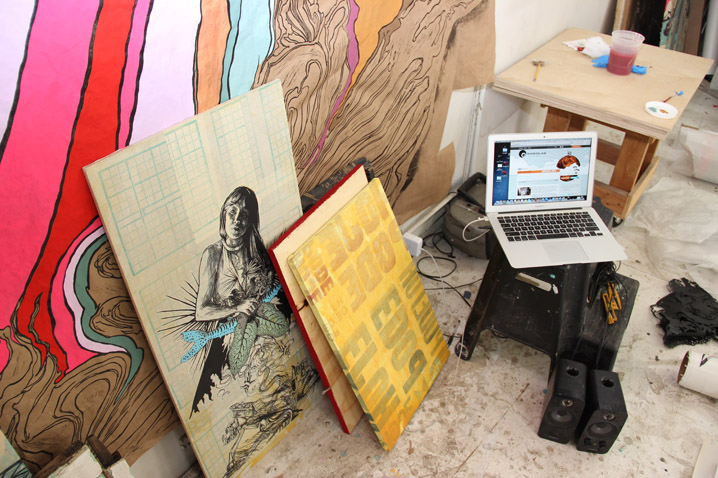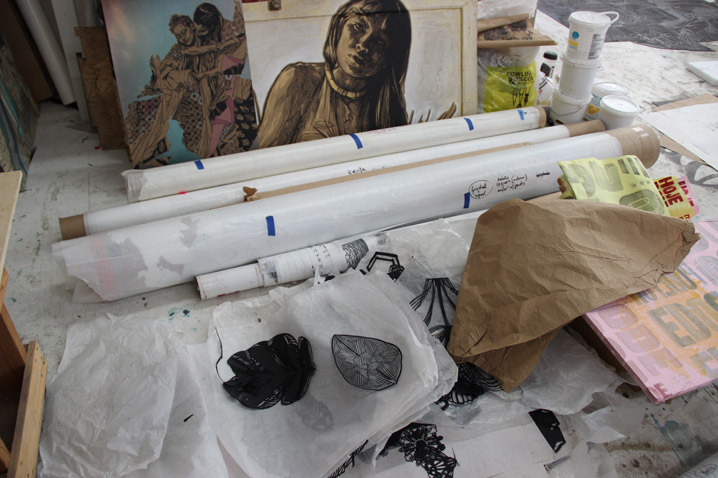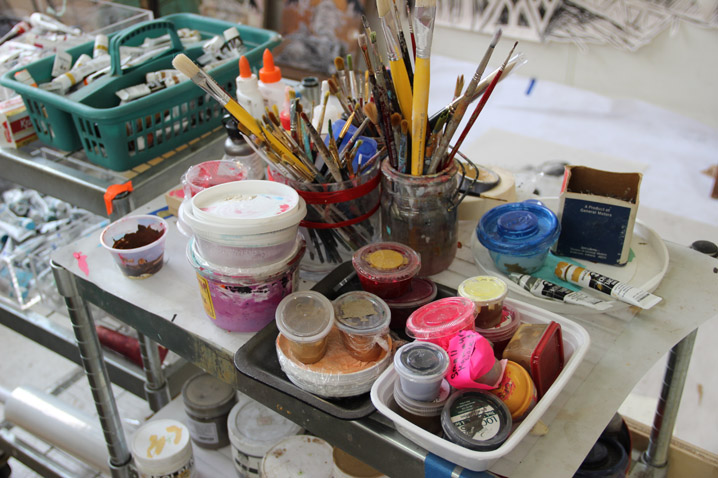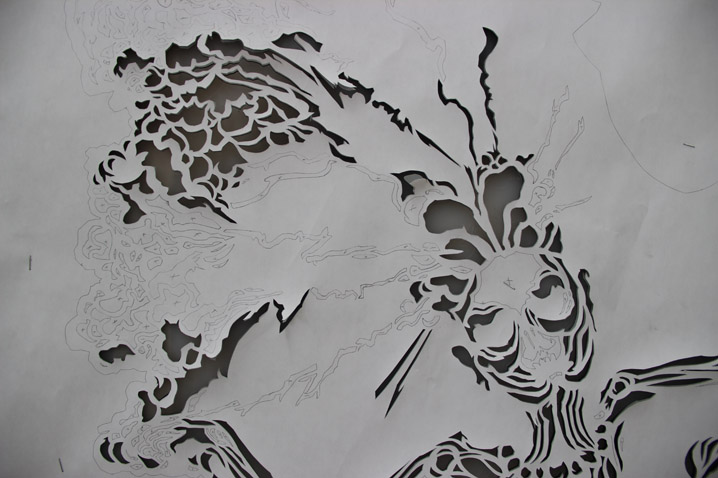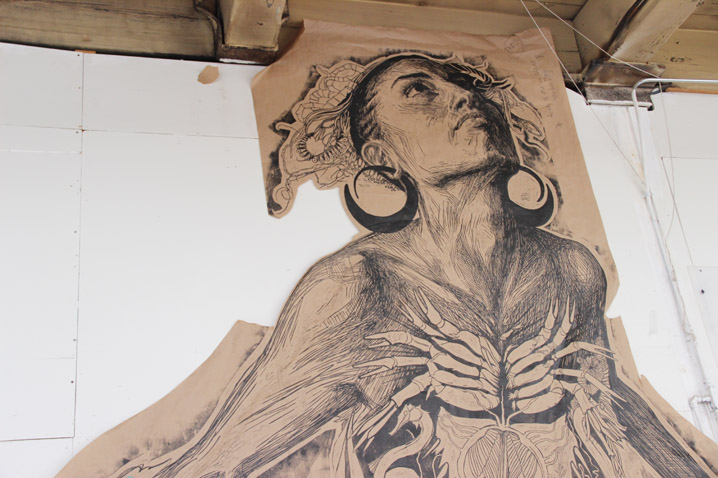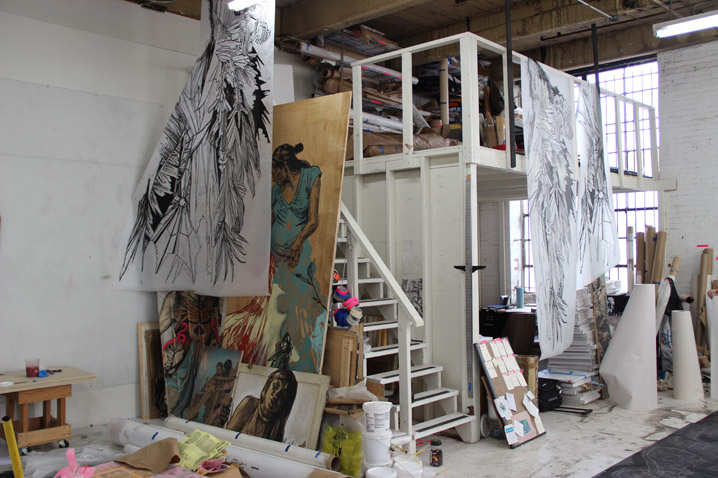 Natalie Kates: Where does the name Swoon come from?
Swoon: The name Swoon came from a dream that my partner had when I was about, I don't know, 20 or something. I don't even know if I can remember this, anyway, it came from a dream that my partner had in the late 90's. He said that he had a dream that I was a graffiti writer and that I wrote swoon, and for me in that time that seemed like totally ridiculous, but then, later on when I started doing projects out on the street, I realized that I wanted to connect them with a name, I then remembered it.
NK: Was there a point in your career where you realized that you have made the leap from street artist to contemporary artist?
S: I feel like I never really saw distinction between contemporary art and the process that I was creating, because I came from a such a classical art background, and when I started working outside I was looking at contemporary artist like Amanda Clarke or looking at the Mexican new artist movement. So I was really interested in the history of graffiti, but I also always knew that I would have different practices, sort of happening simultaneously, so I think that while street art used to dominate my practice, it's always just been part of the way that I thought about art making.
NK: You are a formally trained artist. What school did you go to?
S: Yes, I studied at Pratt.
NK: How important do you think art school is for an artist?
S: I think that it can be so helpful, but I don't think that it is essential. Some of my favorite artists like Arish Mell or Brent Green are artists that had almost no formal training, so I think that it's one of those things that can give you so much nourishment, or it can really form you into a lot of stereotypes and also be really discouraging to your own creativity. I think that when I first got to art school I felt massively discouraged by the whole process and that really caused me to kind of seek a path of my own.
NK: What would you tell somebody who is looking to become an artist and who might not have access to a museum, or school, or an environment?
S: For one thing I think that it's more possible and more within peoples reach then we think, to support yourself creatively. And then I also think it's really important that people not get hung up on the kind of images that they have of what is offered by the art world.
NK: Congratulations on the Houston Street Mural, which is now on display in New York City. How did that happen, how did that come about?
S: That come about because I've known and worked for those guys for years. It's actually Meghan Coleman, who was part of Deitch Projects, who is helping to run that wall. I have a long standing relationship with them and since I think it's such an iconic wall, I really knew that I wanted it to be a community base piece so I teamed it up with Groundswell Community Mural Project and was inspired by hurricane Sandy.
NK: Is there any living artist that you would like to collaborate with and if so who would that be and why?
S: That would probably be William Prendergast because he's been such an inspiration for me since my very earliest days of trying to figure out what my own voice was as an artist.
NK: And what about deceased artists?
S: Probably Gordon Martin Clark, for the same reason.
NK: Is there anything that you would like to view or to take away from you works?
S: I think that I'm going to leave that question to be a non-verbal question, I think that's one of those things where you almost create the body of work so that that question can find its own answer sometimes.
NK: Some words used to describe your work are elegant, decay, intricate, political and feminine. What are some words you would use to describe your works?
S: For me it's really important, portraiture as the essential piece of my work, so I think that almost any language that revolves around kind of getting a deeper understanding of people and of the human psyche and of the human lifespan and of just the things what does mean to be human and I think that would be important language around that.
N: Your studio is filled with music and NPR radio, what is currently on your playlist?
S: I think this week we've been listening to this DJ called DJ Monica who is like really highly random, I think we are all tired of our playlists, so we put this lady on to see what she came up with.
NK: Thank you Swoon.
S: Thank you, that wasn't so bad.